Next in line is
Weingut Keller
from
Flörsheim-Dalsheim
in
Rheinhessen
.
It's always difficult to "rate" Klaus-Peter's wines because of our close friendship. What if you unintentionally add a few points here and there just because you like the guy? What if the wine sucks - do you tell him? I guess many of you have experienced this and when I think about it, I could say I have the same situation with more winemakers than I can remember. And if not close friendship since many years, you have the situation with people you meet less regularly but are still impressed with the persons behind the wines. And let's face it; it wouldn't be strange if you leave a meeting with people like Josh Jensen, Christophe Baron or Lou Kapscandy without feeling positively invigorated and that could very well affect your impressions about their wines but at end of the day, it simply doesn't work that way. The taste is what it is and will always be the same but when it comes to de facto scoring I usually I find myself being rather slightly too harsh if I happen to taste the wines together with the winemaker, only to later question myself and asking why I don't just rate the wine according to my actual impression. Period. So much easier. But just in case, for those who feel that close friendship clouds any meaningful assessment, feel free to deduct any number of points you feel comfortable with and stick to the tasting notes because they will be the same nevertheless.
My history with Weingut Keller goes way back. I remember visiting the estate when Klaus-Peter was nowhere to be seen and the front head figure always greeting you in the courtyard was another Herr Keller -
Klaus
, the father of Klaus-Peter. When searching older records on this bulletin board I realise I was out there shouting already then that Keller was my favourite estate in Rheinhessen and also that I considered their sweeter Rieslings as good as those from the more famous Mosel region. Here's some links to older tasting notes.

2004 Keller Dalsheimer Hubacker Riesling Spätlese
Keller, Keller, Keller... They are on to something. I have only tasted wines from this estate since 2002 and each year I have been equally impressed. I feel a little embarrased to admit I must have gone through a case of this wine by now. The ratings have oscillating but never below 91-92 points. In my opinion, at this stage, it's even better than their Auslese, with ultra-pure fruit, a freshness and a surprising concentration. The razor sharp acidity accompanies the tropical fruit in a wrestling game, dancing on the tip of your tongue. I never seem to be able to resist coming back for another sip every time I taste this Riesling. I remember when I first had this wine together with Klaus Keller and my friend Sverker. We both looked at each other, then at Klaus, and then at the bottle to confirm it was actually the regular Spätlese and not some special fuder bottle.
93 points.
You simply cannot go wrong with Keller in 2004.
2002 Keller Dalsheimer Hubacker Riesling Spätlese
As my dinner guests pointed out, this is all about minerals and slate and although they were starting wandering into Mosel territory one of them suspected that the fresh, yellow-apple/pear kind of fruit must make this a Rheingau, possibly a Leitz. I noted a very fresh, almost lime-like character, much more so than the 2004 version. Focused and concentrated throughout, this was a delight to drink.
92 points
. What is a score anyway? And how does a 90+ wine distinguish itself from anything below that mark? To me, a 90+ wine is a liquid you immediately feel pleasure from, a wine that makes you look at the glass with amazement, wondering how simple grapes could turn into something this good. A wine that never leaves you any doubt that it's of the highest quality. A wine that is very much prone to be by the confiscated by Parker's notorious Pleasure Police.
2005 Keller Westhofener Morstein Riesling Auslese Goldkap
Yes! Was my first though. Followed by...YES! Question is, how can this estate fail? With an eager student like winemaker Klaus-Peter Keller and a some of Germany's most exciting vineyards on limestone rock you have sitting with a strong hand at that Texas No Limit poker game... I'd never hesitate to go all in with Klaus-Peter's wine as a back-up. Ju need to do little else than closing the gap between your nose and the rim of the glass to realise you are in the presence of greatness. It reminds me of the
2005 Schlossböckelheimer Kupfergrube
from Dönnhoff; the same lovely mixture of chunks of yellow limestone grounded into a fine mineralic powder joined by lingering spices, yellow peach and ripe grapefruit, just enough to add a certain amount of biterness towards the finish to make the combination even more balanced. Astonishing rich and concentrated but so wonderfully creamy and fresh...and light. Zipper alert but today being a Sunday and all...
94+ points
. But I'm sure this will improve after a day or two in the fridge and when I taste this again, I
know
Klaus-Peter will ask his wife to please leave the room.
But the curious thing is that back in those days I didn't care much for Keller's dry Grosses Gewächs. In fact, I didn't care for ANY dry Riesling at that time so I completely missed out vintages 2002-2005 when they appeared on the shelves of the wine stores here in Stockholm. I mean, I saw them, I even held the bottles in my hand but I put them back again and focused on sweeter Riesling (guess how much I'm cursing those decisions now...I could be the owner of a range of Kirchspiel, Hubacker and Morstein from 02-05 that would be absolutely thrilling to taste today and I would be able to compare them to the recent vintages but no-no, not me. Well played, Miran.). However, it was those wines who actually got me started – my first staggering steps towards appreciating dry Riesling as I was able, through the generosity of friends and winemakers, to taste Keller's GG Rieslings from this period and slowly I learned to appreciate not only Kabinett-Spätlese-Auslese but also the marvels of dry German Rieslings from the best vineyards. Today, Weingut Keller is run by Klaus-Peter Keller with the help of his wife Julia and two young Herr Keller, their sons Felix and Max - and also, still helping out in the vineyards, his father Klaus. Here's a photo with the family together, harvesting the 2012 Kirchspiel.
Those accustomed to larger estates from more fashionable wine regions will feel there is something missing in this team photo. You might wonder where is the v
ineyard manager
, the
cellar master
, the
sales representative
, the
marketing manager
, etc? We'll you're looking at them. It's the Keller family. That's it. Sure, they get help to pick the harvest from close friends and every now and then Klaus-Peter has an apprentice who is taught the ropes on winemaking but basically what you see is what you get. I think in order to understand what a difference that makes, you also need to understand what is going on inside that mind of his, Klaus-Peter's I mean. The family is really growing grapes on exactly the amount of land they feel they can handle themselves, as a family. One more hectare and it wouldn't be possible any more. I say this because this is important to know when comparing so many German wines while wondering how can the upper level of the quality ladder be so different between various estates that seem to have equally good sites in equally famous vineyards. I sincerely believe it very much rests on basic factors such as time spent working in the vineyards and the effort and close attention to detail necessary to produce wines at the highest quality level. And as a consequence...
size
.
It's important to have this in mind because it's easy to forget that all producers are not the same. You have estates that sometimes don't have a long history but where people buy up a huge area of wines and start producing wines and once they get things going they buy up even more land to further increase production. Sooner or later this becomes an issue of scale. Or you have estates with a long history and tradition (and producing great wines since many years) that are now expanding and growing bigger and bigger, ever increasing their production. In the long run, unless there is some odd anomaly in the space-time continuum, there's simply no miraculous solution to the time equation - the bigger the estate, the more difficult it will be to personally oversee every part of your vineyards and the more you need to loosen the grip and your attention to every detail in the vineyards and the more you need to rely on other people to do part of the work for you. That's also when job positions such as sales manager, vineyard manager and cellar master comes into daylight. At Weingut Keller (and at many of the very top estates in Germany) it's the family doing the work and if the phone rings and no one answers when you call for an appointment it's because of the simplest of reasons - they are out working in the vineyards. So please leave a
message
.
And speaking of size, I believe one thing is very telling. Klaus-Peter told me he has this little deal with himself. Every now and then winemakers come across opportunities to buy more land. On many occasions it can be just average vineyards which could still be a good investment if you just want to increase the production of your basic wine and sometimes (far too rare) a winemaker might stumble across the chance to buy a really good piece of a top vineyard site. I'm sure Klaus-Peter receives these offers from time to time and sometimes he even acts upon it, like the rare and historical best plots in Pettenthal and Hipping outside Nierstein, where he bought some magical plots from the Franz Karl Schmitt estate. The "deal" I'm talking about is Klaus-Peter's promise to himself that every time he buys additional land for the estate, he needs to sell off a corresponding area so that the total remains the same. In other words, just big enough for the family to handle. Just look at the German wine landscape and ask yourself - how many winemakers abide to
that
kind of promise to themselves?
Enough talking. Time to share some impressions of actually drinking the wines. For the 2013s it's easy - they were tasted at mostly one occasion in mid-March and since they're all - but two exceptions - taken from tank with the wine still resting on its lees, I'll use a range score to indicate the level of quality and drinking pleasure I happened to experience. I will retaste of them again in a few weeks, this time from bottle, so it will be interesting to see if the initial impressions hold. Usually they do almost to the point. That's one discussion often reoccurring with both winemakers and fellow wine aficionados - how reliable are the early tasting examples from tank compared to the finished product? Well, for reds like Bordeaux and similar I have no clue whatsoever because I don't have any experience but for Riesling my experience is growing for each year and so far I would claim that there the difference between tank samples and bottled wines are almost negligible. Sure, every now and then there will be a slight change of a particular wine. Some more body have developed, the nuances of fruit might be displayed a little better but at the end of the day I would say it's really like splitting hair. Today I'm very confident that what I taste from an early tank sample is to 99% the perception I will have of the wine a few months later when it's bottled. The 2012s are a little more difficult to present. I tasted them on so many occasions, first time when they were painfully young, then again a little later still as tank samples, again just after bottling and then several times in bottle so it's really hard to present a single story to every wine. An alternative would be to present a series of tasting notes of every wine from each tasting occasion but that would put people even more to sleep than already this little report will do - save for the most battle-hardened wine geeks. I think my strategy for the 2012s will be to summarise one tasting note for each wine and with the text mention if there was any significant deviation from the first impression while tasting the wine further down its road of development.

2012 Keller Bürgel Spätburgunder Grosses Gewächs
Aromas of pure and precise red berries fires up the nose and the Keller raced is on. On the palate there's bright, red juiciness with some forest lingonberries and sour cherry, maybe add some strawberry there just to stress that it's really red and juicy. In the middle even a slight touch of chocolate bitterness. A truly elegant pose and transparency makes it very sappy and lean, with nice minerals singing beneath the pure, red fruit. Now I understand Klaus-Peter's nagging about Red Riesling because it truly feels like one. Lovely finish where the minerality plays a beautiful duet with the lingering freshness of the sappy fruit. If any complaints, I would say it's very lean. More "fat" and I would probably have liked it even more.
89-92 points.
2012 Keller Fraunberg Spätburgunder Grosses Gewächs
This is clearly something different. Much darker, deeply muffled dark fruit, satin-soft and velvety – the Frauenberg delivers more punch and considerable more depth. Where Bürgel was transparent and sapping fresh, this is leaning more towards the opposite side of the spectrum, with broad brush strokes of dark fruit, loads of minerals and that beautiful nerve of energy creating such a tension in this wine. Layers of different flavours as you sip the wine, not just dark berries but a hint of herbs and smoke, and a fine-tuned complexity on the nose, adding to the positive perception as you drink it. Finishes with a long and persistent finish that truly impresses, above all the soothing balance between acidity, fruit and very fine-grained tannins. The most intriguing part is that tickling nerve of energy remaining on your tongue as the flavours fade away on the finish. It's like a string of energy pearls planted throughout the sensory experience from this wine. What fun it would be to come back to this wine in ten years and se how it has developed and if the energy is still as prnounced but now with the fruit developed into more secondary nuances!
93-95+ points.
2012 Keller Morstein Spätburgunder Alte Reben
I remember standing there in the vineyard taking photos of Klaus-Peter when he had just grafted this Spätburgunder plants onto the old, old Sylvaner roots in Morstein and I could see his smile when he announced that "With THIS raw material, one day...I'll be able to compete with the best.". So how did it turn out. Well, first thing's first. Good luck trying to get hold of a bottle. The production so low I guess his aim will be to drink them himself together with friends. Compared to the darker Frauenberg, this actually displays more red fruit and speaking of "more", we also have more minerality here, wonderful energy from the very first sip but in this case as impressive as the Frauneberg's vibrating, underlying energy but not necessarily more than the Frauenberg.
Poff!
What was that? That's the sound it makes when it jumps up from the glass and attacks your palate. No one could possibly remain indifferent. There's this attention-grabbing grip, precise focus, very sappy and erect, with a glow of dusty chalk and smoke floating above the deeper layers of fruit. After a few sips (hum, was the bottle supposed to be divided among all participants?), I realise that there is an intriguing combo here; this mixture of both being more soft-spoken almost shy in some parts of the flavour profile in the midpalate and then on the finish, this buzzing, vibrating low-toned energy that just doesn't want to go away. Painfully young today, I think this will develop for many years and hold for even longer years. The only question is how to come over a bottle.
94-95+ points.
Below a
visual impression from this fabulous tasting. These Pinot noirs are really pushing the envelope for German Spätburgunder. With Klaus-Peter at the helm it will be interesting to follow the development of these type of reds from Keller's vineyards. Especially the one to the left. Note to self:
never
serve an ultra-expensive Burgundy blind side by side to this creature... I admit I'm not a big fan of Pinot noir but even a novice like me can recognise the quality in this wine.
2013 Keller Scheurebe Trocken
(but will be labelled as "Westhofener Morstein Scheurebe" when I take over the presidency of the VDP...)
Okay, so we have an ongoing struggle for many years now, me and KP. Many, many, MANY years.
The Scheu
. Originating from that golden little parcel in Morstein, right beside his Riesling vines that create such a stir in the Riesling world with the outrageously delicious Morstein GG. Sometimes we're not at speaking terms at all. He's stubborn like a donkey and continues to give me this mantra of
"Nature is the Boss"
,
"Mother Nature decides"
and similar
"yada-yada-yada"
nonsense. The Scheurebe will be at its BEST as a Kabinett-styled freshener but he keeps refusing me this tiny little joy in life. For many years he has insisted in making it completely dry. Sometimes he goes over the top and harvest at BA-level. And once, only once, he finally gets it and harvest a superb Scheurebe Spätlese that's sold out in a second. Why wouldn't he listen? I think I've done everything possible. I've talked to
Caroline Diel
and asked her to talk sense into him (and then she goes and uproot HER Scheurebe!...
that's
the kind of frustration I need to deal suffer through with these people, at a dinner I've have arranged so that he's seated right opposite
Hans-Günther Schwarz
, the former wizard of Müller-Catoir and among other things excelling with his
Scheurebe
, so that he might talks some sense into Klaus-Peter's narrow mind. I've even tried to shut him out of the vineyard at harvest time by posting the
Swedish Bikini Team
as guards. But nothing...nothing has happened. Does he listen?
NO
. Mother Nature yada-yada-yada-decides again and this vintage it was - of course - a completely dry version of the Scheurebe...again. Of course, a mistake. But I have to grant him the satisfaction of actually acknowledging that this is a serious Scheurbe, more so than before. I mean, I have enjoyed the dry versions before but mostly as a nice quaffer with the occasional exception that it even has displayed a quality of higher levels. This vintage is one of those moments, probably - again - because of low yields that has somehow compacted the wine into a rich and complex punch. I have to yield to the fact that it exhibits wonderful aromatics, with perfumed flowers, lychee fruit, white lilies, white peach with a powder of crushed limestone sprinkled over the whole package like the icing on a cake. Perfumed is a character of the nose but even a sip leads to you scribble down "perfumed". But don't get me wrong - there's nothing over-the-top here. This is a bright, transparent, mineralic and very refreshing creature. Picture yourself a Scheurebe light and delicate as a Kabinett, without the residual sugar. Harvested AS a Kabinett, this would be totally irresistible and one of the great wines in Germany from this vintage but as hard it is to admit it, this is still a sensationally delicious Scheurebe...for being a Trocken.
92-93 points
.
So what can I say about this ongoing struggle to put things right and straighten Klaus-Peter up so that he finally sees the light? Well, there not much to say. I see this as a perpetual mentoring my young student, trying give him hints and inputs how to work the Scheurebe. It's very much similar to dancing. Let me show you an example. Klaus-Peter is more like "Albin" in this short video, constantly trying to show his moves all over the place, talking about dry Scheurebe, BA-styled Scheurebe, Auslese-styled Scheurebe, repeatedly nagging about "expressing himself" in the Morstein vineyard,, while I stand there firm, trying to make him realise that
"No-no, not like that you're not!"
I hope you're on my side. Here, take a
look
.
2013 Keller Silvaner Trocken
The first sip and you immediately recognise it - again. Always this lovely mixture of cold stone, mint,
aniseed
, melon and those green, Finnish candy delights (
Fazer
) that only people in Scandinavia, I guess, will understand what I meant. It's fresh, it's delicate but above all - a distinct difference compared to last vintage, in my opinion. Much denser and deeper this time, full of extract despite its lightness and excellent grip. Totally transparent and brimming with elegant stony minerality. Stays focused and precise throughout and these reoccurring notes of mint, of green and of playful minerality just makes this a dancing, flirting and delightful driniking experience. I wonder if I this isn't even more impressive, that you can produce wines of this astonishing quality and call it a "basic" wine. Maybe deserving even more accolades for such a feat instead of the ususal suspects from Grand Cru vineyards. A beauty.
89-90 points.
I asked how come it feels so rich and concentrated behind that initial lightness and Klaus-Peter responded that's the difference when you cut the yields from almost 70 hl down to 45.
2013 Keller Sylvaner Alte Reben Feuervogel
Mostly grapes from old Bürgel und old Steingrube vineyard in Westhofen. Clearly a different creature compared to the "basic" Silvaner (if you wonder why the change in spelling; apparently both versions are allowed and yes, it's the same grape). Deeper, more complex with layers upon layers of a succulent peach/pear/apple mixture. Also more spicy here, not the light green pear-infused minty character but truly more juicy, more stuffing/extract on the palate and a more persistent finish. Really impossible to resist this combination already now at this very young age, with this lovely minerality reminding you of spring freshness throughout the palate. Feels very much similar to the two beautiful previous vintages of this impressive Sylvaner. A beauty. On a second note , I realise I will be using this expression far too often so I'll make a mental not to use this particular accolade conservatively.
91-93 points.
2013 Keller Riesling Trocken
This wine is always the most difficult to rate. Not taste, but rate. Why? Because it's supposed to be the
entry level
wine. And you taste it...and you shake your head in disbelief (wondering of the winemaker is playing a trick on you just to film your reaction and have a laugh at it later) and you taste it again. For crying out loud, it's a freekin' Riesling trocken! The
basic
wine! The bread and butter of a winemaker. The wine he makes the most of. But it tastes like...well, I'll tell you but I can't help feeling the pain of certain wine critics who I heard complaining about the fact that you just cannot have it like "this" - probably translated into some sort of complaint about a basic wine tasting like this, forcing you to start scoring already at a high 90. How then, is one supposed to rate the others? Or perhaps the solution is to simply rate it a solid 80 like a solid thirst-quencher to leave room for the heavier stuff? No-no, I just can't have it like that. I don't care that the two Riesling gurus in my book, David Schildknecht and John Gilman, usually score this damn basic Riesling trocken at a high 90 - I will decide here and now that no matter what, I will not cross that line. So what gives? Without even caring for a first impression of aromas I dig down and gulp into a big sip and there you have it - annoyingly (if you plan to suppress its rating) great buoyancy from the very start. Racy acidity as a primal lift-off and then the succulent and bouncing texture of fresh, ripe acidity swirling around the vibrating notes of green and mostly yellow apples, grapefruit, juicy, succulent peach mixed with lemon zest and a lovely salty side-punch that keeps you on your toes as the wine bounces back and forth on your tongue. If I got it right we're talking about ca 9 g acidity and 4,5 g of residual sugar here and with a thirst-quenching purity from the limestone minerality. Dancing, really
dancing
down the throat. I get almost slightly irritated - no - annoyed at a wine like this and the fact that KP fills bottles with this stuff and calls it Riesling Trocken. I'd love to make an experiment once and fill this stuff into a bottle of GG just to see my friend's reaction. Too delicious for its own good, I love it but...is it quality-wise a wine above 90 on the hundred point rating scale? Yes, it is but I don't care - I have decided
a priori
that I
refuse
crossing that line!
89-90+ points.
Otherwise it will completely mess up the relative scale when assessing the wines next in line.
2013 Keller Riesling Trocken von der Fels
Okay, I'll take back that previous statement about the regular Riesling Trocken. Instead, pour this wine into an empty bottle of Keller's GG and wait for the reaction of your fellow wine nerds around the table. The truth is, most probably there won't be any reaction as people will accept it as the GG it portrays itself no be. No wonder, since Klaus-Peter has this idea that a vine is too young to be included in a GG bottle unless it starts to reach around 20-25 years of age so instead he's mixing up younger plants from the Cru GG vineyards and oh boy does it melt into something worth remembering. This is the most delicate and crystalline von der Fels I can remember,
shining bright like a diamond
and dancing so damn flirtatious down your tongue with invigorating energy. Almost weightless in its stule of finesse and elegance. A caution here, should you limit yourself to only one sip you might even be fooled that it's a lesser wine since it's so weightless and delicate but treat yourself to a second pour and you'll notice how the wine shifts into second gear with more extract, power, richness and a rumbling energy hitting your tongue like a splashing wave at the ocean front. Lovely tension throughout creating the wonderful lift I'm sure Klaus-Peter strives for. I love the playful dance between citrus and mandarine fruit and the saly component that kicks at the finish of each sip. Towards the end it's like sucking on a mineral stick dipped in a combo of ultra-fresh, white peach and pink grapefruit – with champagne bubbles shining like sparkling diamonds.
Hurra!
91-93 points.
Let's continue the account of yours truly's adventures in
Keller-land
but first I must show you this. I mean...7 years old. How is that even possible? Makes you a believer in reincarnation, doesn't it? Just
listen
to this.
So although we've had a lot of mixed grapes from Keller so far, such as Spätburgunder, Sylvaner and Scheurebe, the remaining impressions will mainly come from one grape: Riesling. Now, this particular grape can be introduced in several different ways. You might prefer a more
flashy
presentation or go for the
traditional
one. Maybe you prefer a more
chatty
intro? Or a more hands-on
approach
, which is cute (despite him claiming that Keller is from Rheingau...ooops – but he saves it towards the end). However, to me, there can only be
ONE
to rule them all...
2013 Keller Hipping Riesling Grosses Gewächs
Oh dear...
Utterly crystal-clear mountain spring feeling here, like popping a bottle of champagne, it literally
bounces
forward with a striking pureness and an unmistaken tension that always seem to arise from the Hipping vineyard. This wine simply doesn't stand still to allow for assessment – imagine yourself having to take your pen, paper and write the tasting notes as you run to follow it dancing around your palate. No wonder the hand-writing becomes a little blurred! Luscious grapefruit juice, white peach, white lilacs and lemon zest is the first attack, the partly crushed slate with some salty notes and the melted stone pebbles squeezed together into liquid mineral by the great
Hulk
to accentuate the stony character of the finish, is the second attack and just in time for the third and final attack on your palate you have this beautiful single tone extended throughout the finish with its vibrating grape energy taking you
up-up-up
in an
Euphoria
. You have all the hallmarks of a great wine here, elegance, perfect grip, focus like a laser an impressive balancing act between the ripe and playful acidity, the mineralic core and the attention grabbing waves of energy. I'm probably not rating this high enough now but hope to try it from bottle again to give it a second chance.
93-95 points.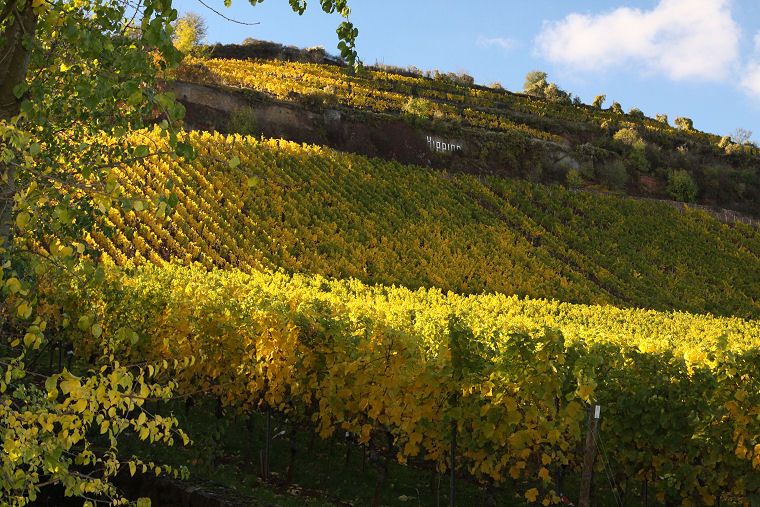 Different angles of Niersteiner Hipping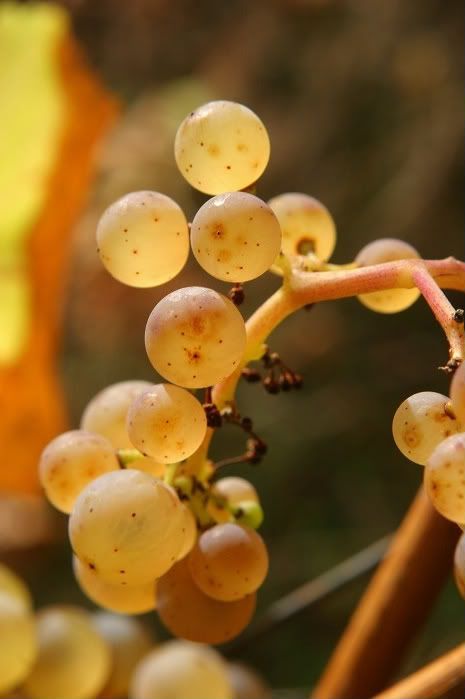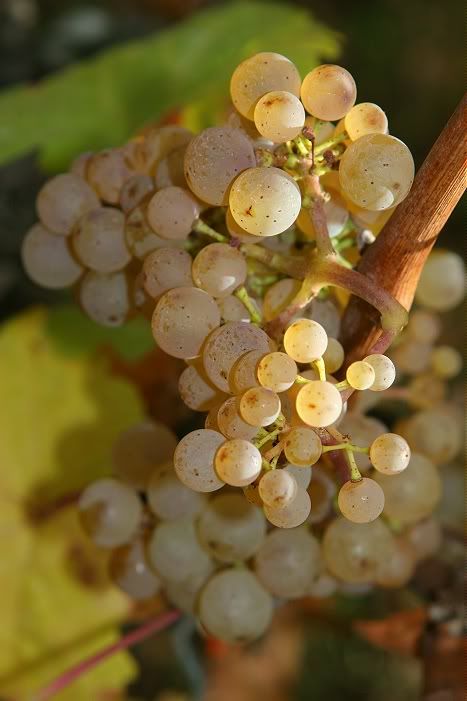 Grapes from Niersteiner Pettenthal
2013 Keller Pettenthal Riesling Grosses Gewächs
Oh yes... Yes,
indeed
. Imagine the wine above as a starter but here you feel immediately that extra layer of depth and reality compared to the vivid Hipping. This is juicier...really to the extent of being so succulent you're left drooling the wine on your tasting notes making a complete mess of yourself (hoping none will notice...). While the white peach clarity and freshness is more the hallmark of Hipping, the Pettenthal Riesling GG while
also
offering that unmistaken white peach, in addition adds pink grapefruit into the blend with red apples – you know the kind when the skin can be completely red and the fruit flesh inside is crispy white. I would probably bore you to death by yet again repeating impressions of utter lightness and filigree, a finesse that is difficult to grasp given the full-throttle force and complexity on the palate. In my book, the pinnacle of combined winemaking and an outstanding vineyard when you can have this
Boris-the-Wrestler
dancing down your throat like a Russian
ballerina
tipping on her delicate toes, nudging you a bit as to flirt with you and just make you craving for more and more. And...more. If your plan is to drink moderately – choose a different wine. Anything but this. Because, it's gonna make you drool... I just mention an interesting observation that has come to my attention when it comes to Pettenthal. Compared to Hipping it seems always a little more "restrained" – at first. Or called it "reserved". It comes from the fact that while the various wines from Keller's Hipping vineyard are all jumping out of the glass offerring an immediate appeal, while often the wines from Pettenthal has this invisible and ultra-thin veil that, on the first impression, feels like a velvety, smooth coating above the sprakling fresh fruit components, as well as the mineralic backbone in some cases. It reminds me very much of the common difference between Willi Schaefer's Himmelreich and Domprobst vineyards, where one stands out from the first sip while the other is more shy in the beginning only to grow on you and finally overtake its close sibling. Or, in fact, the difference between the Domprobst AP 10 and AP 5, if you get my point. I realise we're down to some serious nerdiness here when discussing it on this level but at least some of you Riesling aficionados out there will understand what I'm getting at. To me, this means that I always need some more time to appreciate the Pettenthal because this thin, soft coating can sometimes mute the underlying layers but once they are exposed...
wowsa!
Like this example. Simply stunning and humongous impressive!
95-96 points.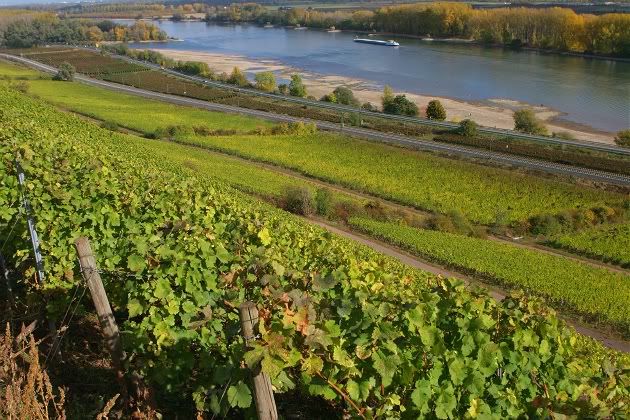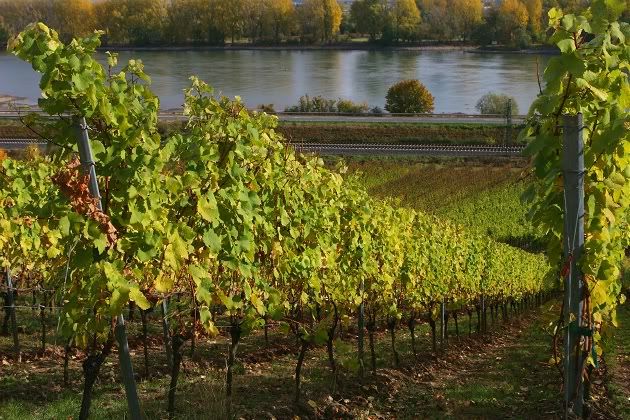 Niersteiner Pettenthal
2013 Keller Kirchspiel Riesling Grosses Gewächs
From a vineyard planted in 1964 (so 50 year's anniversary!) with eastern facing slopes on pure limestone rock with a high iron content. As always, a lovely level of spices hits your palate on the first wave but it doesn't shift into second gear, at least not on the spice department – I'm used to this showing more of yellow fruit but this is very similar to the von der Fels' more brighter, mineralic and crisp kind of texture but with slightly added depth. The bouncing, playful acidity keeps everything so damn fresh and yes, when I look down on my notes I notice – again – words like tension and filigree elegance mixed with citrus, orange and some even flinty smoke. Impressive as always. This is clearly an incredible elegant wine with beautiful lightness, laser-like minerality and vivid finish and if I'd put a numerical score to express my enjoyment and feeling of quality it would land somewhere around
92-93+ points
. However, remembering past experiences from this lovely vineyard and the typical characteristics I always appreciate from the resulting fermentation of its grapes, I would actually like to express a complaint here, IF the slightly lower levels of spiciness and more delicate lightness is the result of conscious choices of vineyard management and/or harvest by Klaus-Peter. I know that the development of Keller's wines since the change of guard from father Klaus is a deliberate transition into a style more focused on finesse and lightness, or as Klaus-Peter often says –
"I want to drink a wine I can finish a bottle of, or even more and not so heavy that it keeps you hesitating to take another sip"
. I agree, however, as in all things I also believe there is a relative balance. A rich, complex wine with layers of flavours can also become...
too
delicate. At least to my palate. Or at least, to possibly making it less interesting compared to an alternative, richer style. For Kirchspiel, looking at my older notes from previous vintages, I notice I prefer a less delicate and laser-like style, with more extract and above all: more and deeper layers of spices. Of course, I'm not here to lecture the winemaker on how to manage his vineyards and express their
terroir
but at least I think I have a valid point worth discussing – you could make every wine more filigree, light and delicate but that would also converge all this beautiful diversity from very different sites into a more narrow path of stylistics instead of allowing them to be a little sprawling wild-grown and stress their difference. Here I am, expressing my
dissatisfaction
and almost "complaining" about a truly delicious wine, so please read me correctly here – any input from those in love with the Kirchspiel, delicate or more robust, feel free to join the discussion and add your two cents.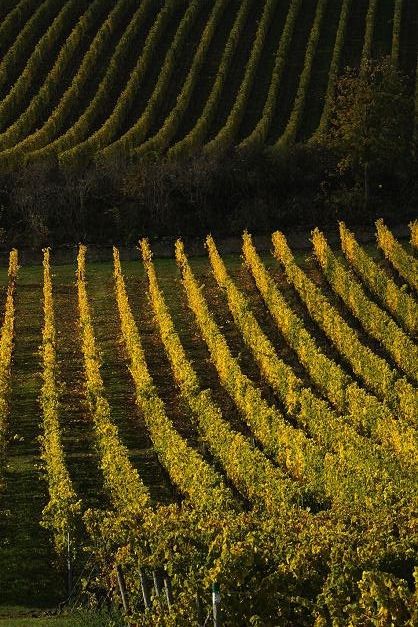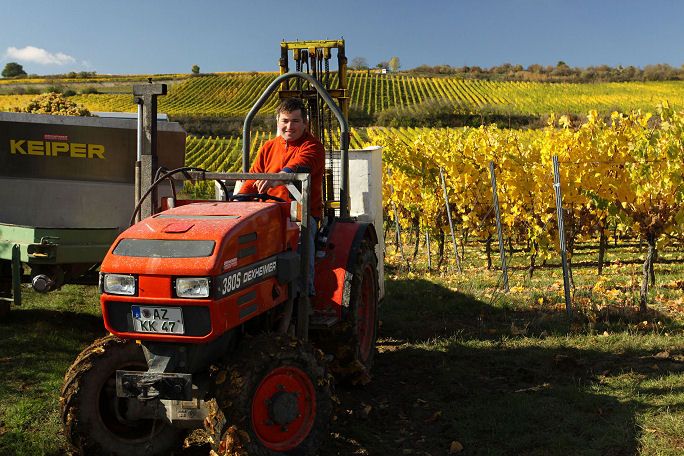 Different angles of Westhofener Kirchspiel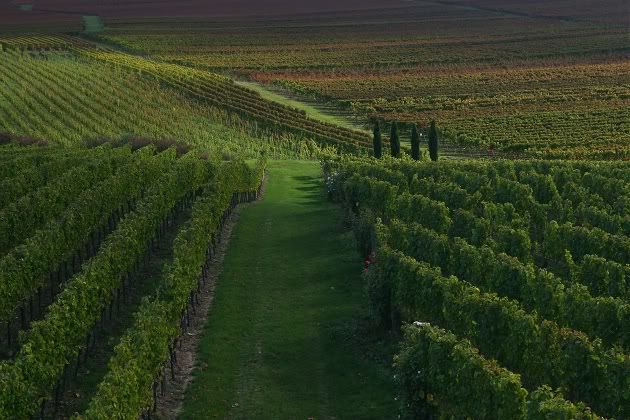 Dalsheimer Hubacker
2013 Keller Hubacker Riesling Grosses Gewächs
I guess KP doesn't have a choice here – this is always more brute force, heavier, more horse power adding to a textural punch of richness, but not juicy, succulent richness – just more extract and power but in a very restrained and at this early stage, almost shy style. I often use "aristocratic" to express its noble rigidness. Erect, stiff, very strict (like a match teacher like
myself
, when I come to think of it!). Imagine a math professor who's not smiling but just feeding you with trigonometry all day long. Limestone minerality, apple crust, dried herbs and grape peel for sure but it really has this razor-sharp, brutal liquid stone feeling to it, everything so beautifully focused and imbedded in the long and complex finish. Did I say aristocratic? It shifts through the gears in such a focused and composed fashion that you need to see the acceleration like
this
, rather than
this
. Get the picture? Absolutely lovely in any angle you wish to look at it.
94-95+ points.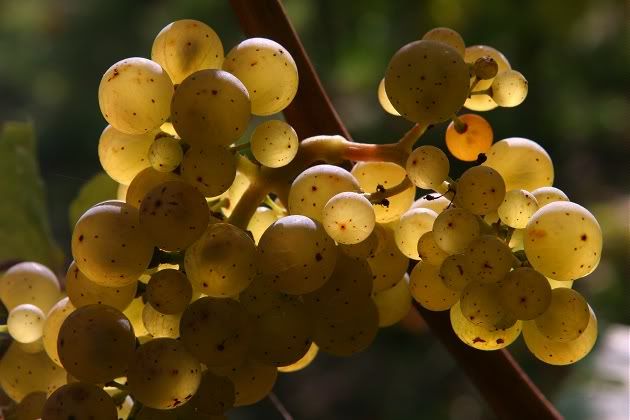 Grapes from Dalsheimer Hubacker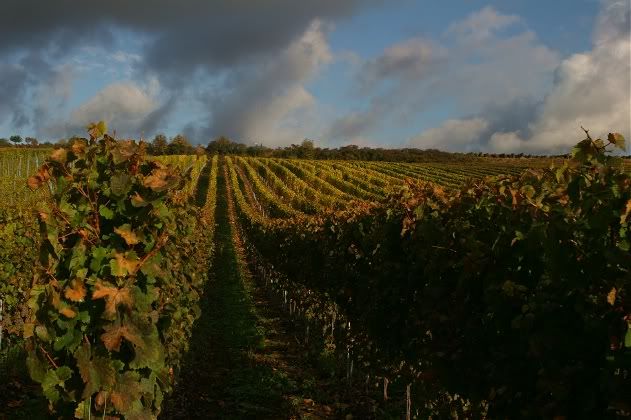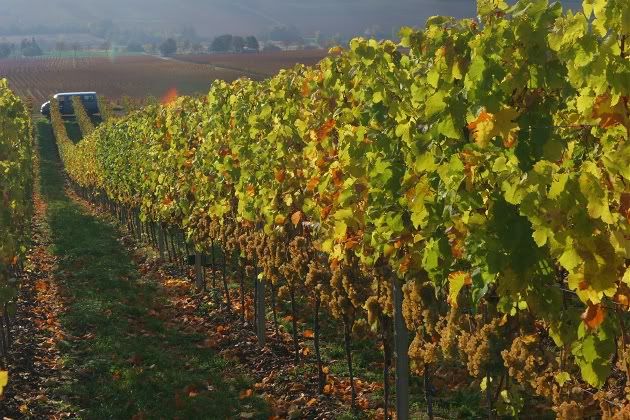 The legendary Westhofener Absterde vineyard
2013 Keller Morstein Riesling Grosses Gewächs
From a vineyard planted in 1955 and mostly with blue- and grey clay the in the top soil (and then yellow limestone rock beneath). Best would be not even to write about this one, to make as little noise as possible with the hope that people even forget the wine exist. Why? For pure selfish reasons, of course. I still here the echo in my voice from Keller's German distributor when he firmly announced: "THIS we drink ourselves!" when tasting a previous vintage. I mean, when you have the distributor of the wine telling you that he doesn't even want to sell it but instead gulp down as many bottles himself, then you know you have a winner. Unfortunately, the 2012 of this Holy Grail was only included in the estate's vintage box so the vine is conspicuously absent from the small shelves of my cellar. This wine has become so rare as to make it almost of only academic interest to assess it since no one with ordinary salaries will ever hold a bottle in his/her hand – I don't know the destiny planned for the 2013 Morstein but I fear it could be the same. Oh, you want to hear about the wine? Well, what could you image. The best plot in Morstein, with pure limestone rock, old vines and a winemaker who seems to camp in his vineyard to give every vine his full attention – how could you possibly end up with anything but sheer brilliance? Elderberry flowers, white peach, lime zest – don't forget that really pink-pink grapefruit – layers of extract, sprinkled with minerality, shaken (not stirred) into a shattering energetic, powerful and rich laser beam...yes, you've guessed it. It offers no resistance at all. Not a touch. Absolutely feather light delicacy here. Simply brilliant. On the long finish you have deep complexity from the soil digging roots, minerals bouncing between your teeth and just this overpowering pulse of energy. An elastic
tension
in the wine that makes a lift-off iminent. Okay, THIS is the filigree Klaus-Peter wants to reach and for the last couple of years he has surely succeeded and here it simply makes much more sense since spices and heavier extract has never been the hallmark of this classic vineyard. I could drink double magnums of this. Where are they. my double magnums? Hellooo! Mr Postman!?
96-97 points.
2013 Keller Abtserde Riesling Grosses Gewächs
Abtserde...the nectar of Gods. If you feel that I might have express some rather strong affinity to the incomparable cult Morstein vineyard, I urge you to taste this wine. I'll tell you from the start – this is even
better
, although others might disagree. This is pure heaven in my book. Oh,
Abtserde
...my dear. I will state it here and now – this is my favourite among Keller's stamp collection of Cru vineyards. So sexy I would claim there should be a law that a bottle can only be opened like
this
. (Or possibly like
this
if she is not available) Klaus-Peter noted that the grapes were half the size of those from Morstein and should you ever have a chance to make a visit, please knock on Klaus-Peter's door way early in the morning (
best is around 3-3:30 am
to make
sure
he's at sleep so that you actually catch him at home in bed – otherwise he will already have escaped out the doors into the vineyards and will be much more difficult to track down among all those rows of vines) and insist he shows you the Abtserde. There you will notice that this is a meagre way for a grape to make its living; a constant struggle to even survive and mostly what you can hope for is ultra-low production with widely spaced grapes in those unimpressive (quantitively speaking) bunches and when you look at the rows you almost laugh at the poor sight of ridiculously small grapes. Yet they TASTE like exploding champagne bubbles (treat yourself to a 1996 or 2002 Taittanger Comtes de Champagne and you'll know what I mean). And like every year...you have this oscillating beacon energy that makes Riesling from this particular vineyard stand out. Like a frightened and nervous little child in medieval Germany, trembling of fear as it hides beneath the blankets of a small rural home in Flörsheim-Dalsheim, with the parents whispering –
"Hier kommen die Schweden...!"
referring to the horrible Swedish army who was down all this way south to fight for the King. You can literally feel the struggle and delicate balance between surviving or simply die on your roots in this wine. It's this totalness of the minerality's firm grip together with the extreme tension in this wine that speak to my senses. More citrus and bright, ripe, racy acidity than I can remember compared to previous vintages; otherwise I'm almost struggling to find particular fruit flavours to share with you folks because what grabs your attention is again this total pureness, oscillating energy and uplift. It's so overpowering you simply forget or don't care about analysing the wine further to include its fruitier components and finally you don't care because you're getting annoyed with the neverending finish that goes on and on and...on, keeping you waiting for that moment when your palate is ready enough to taste the next wine. Absolutely brilliant elixir here! Me needs it! Me wants it! My
precious
... As you notice, it's always difficult to describe a wine. You try the "professional" way by describing aromas, flavours, texture, acidity, minerality, finsih and so on. You try with comparative analogy to places, situations or non-vinous things to add a feeling to the experience bet let's be honest here. At the end of the day, there's only ONE way to describe the perfromance of the Abtserde in the glass. And it's
this
.
96-98+ points.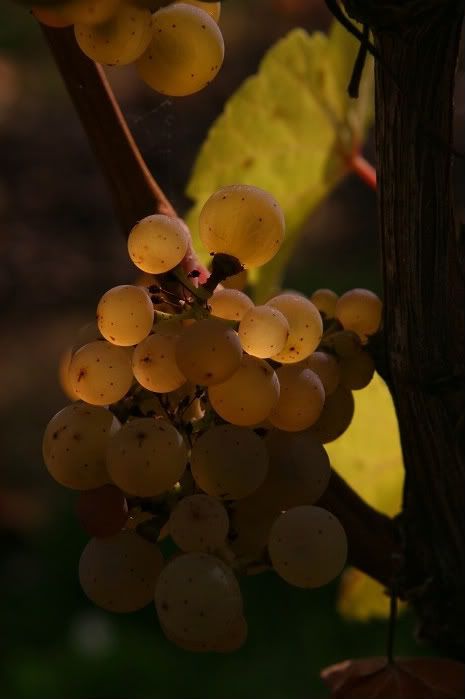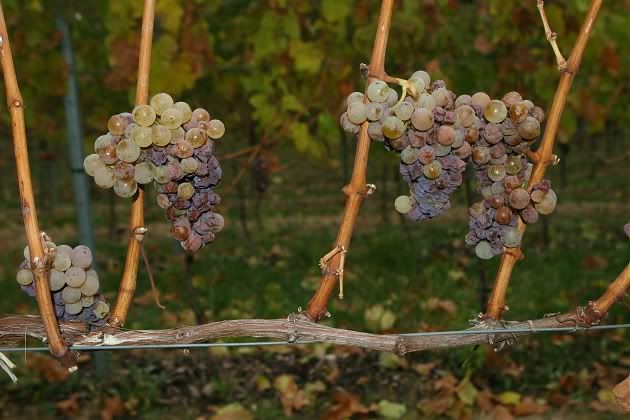 Grapes from Westhofener Abstserde
Admitedly it's difficult for me to write about the Absterde since I have this special realtion with this vineyard. It's the place where I lost my
virginity
... No kidding!
This is a tale not much different to the Seinfeld episode
"Rochelle-Rochelle, a young girl's strange, erotic journey from Milan to Minsk"
. But in a different setting.
Ok, so I was a virgin. Yes, until very recently. I admit it. There's no excuse. I simply hadn't tried the awesome pleasure before, of what was my first step into the adult world of that "stuff" going on in the vineyards.. .
To begin this tale I need to introduce the key player in my experience.
Julia.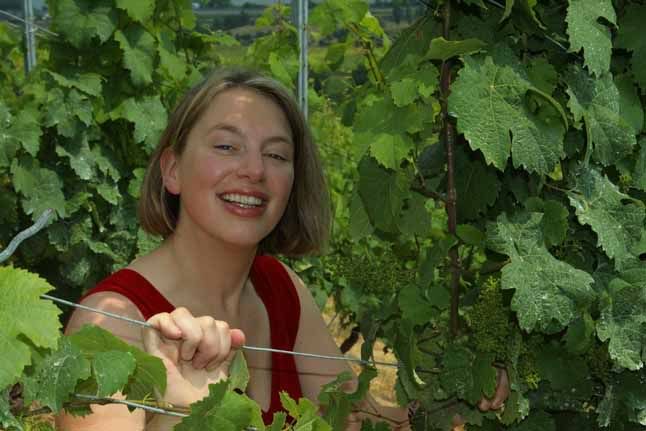 I like her.
Not only is she very good-looking but also very kind and generous as a person. And above all, she makes a killer
osso buco
. She is also the wife of Klaus-Peter Keller, the person I consider to be the best winemaker for dry Riesling on Planet Earth.
Here they are together in
Niersteiner Pettenthal
.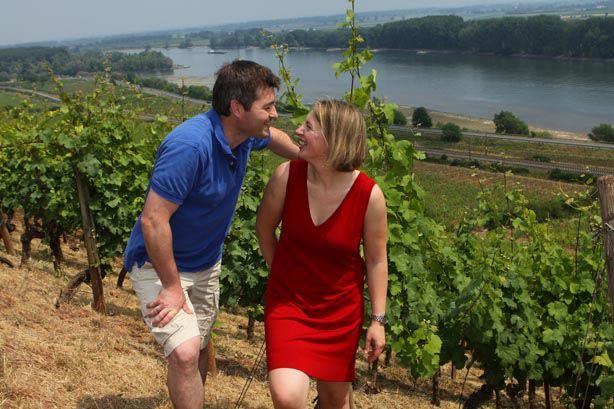 But please, let me get back to
Julia
. She plays the leading character in the tale of how I lost my virginity. However, she won't enter the story until later.
I took a little trip to Germany two years ago. It was late autumn. Well, I took several trips there when I think about it but this account originates from a very specific tour at end of October and hence right there smack in the middle of...harvest. Although I have been visiting the German wine regions on more occasions than I can possibly remember and although I have been there at the start of harvest many times, this was the first visit which coincided right there in the middle or rather even towards the end of harvest. My trip had so far been as awesome as ever, with hours and hours of tasting with my favourite winemakers and Keller was my last stop of the tour. The next day I was preparing to make it to the airport for a flight later that night but having noting much to do I asked the Kellers what they would be doing that same day, hoping to maybe join them to shoot some photos.
-
Oh, we're harvesting the Abtserde
, Julia replied.
Do you wish to join and give us a helping hand?
Wow… That was a first! An opportunity to actually participate in a harvest for the very first time in my life and not just any kind of wine but harvesting the grapes from one of my absolute favourite vineyards in the world, the magical Abtserde. There was no hesitation before I quickly shouted a happy YES and joined the picking crew out to the vineyard, eager to get a taste of how it really feels to be harvesting the combined efforts of one year's meticulous work and care of the precious vines. It was a lovely autumn's day with some mist in the morning and a rising sun that would soon caress the lovely vines with golden sunshine and make the landscape picture perfect and oh so beautiful both for shooting some photos as well as picking grapes. After taking some pictures early in the morning I was given the standard tools for harvesting. A bucket and pliers to cut the bunches of grapes.
Ahhh, it was such a lovely day, I thought. The smell of autumn, to the sound of birds and the beautiful rays of sun caressing the yellow-green canopy and the inviting bunches of mature grapes. It took some moments of inner contemplation before I even kneeled down and grabbed a bunch in my hand to study it. How beautiful they looked. Truly the harvest of nature's treasure. At first I couldn't bare myself to cut it but was stuck in a moment of awe as I studied and admired the beautiful grapes packed with sweet, luscious juice. I mean, just look at them. How juicy they are! Bursting with accumulated flavours from the sunshine, the earth, the rain...from Mother Earth. How easy to become philosophical and ponder on the great miracle of birth and growth. It reminds me of an old poem by…
Oooops!
Sorry. I finally snapped out of my philosophical contemplation, grabbed a bunch and started thinking of how and where I should cut it. Hmm, maybe at the top taking the whol cluster in one action. Or should I rather cut one part of the bunch and carefully remove the rest in a second cut? Or maybe, wait, maybe I'll cut off some grapes on the lower side and then continue with the rest? So many questions but how soothing to just enjoy the silence of people working and minding their own business as they were harvesting along the rows of magical Abtserde. Ok, so I finally decided to cut just one part of the bunch. The left one. Cut. And the grapes fell into the empty bucket. Ahh, such a delight. So
THIS
was harvesting? This tranquil, contemplative zen moment of silence was synonymous to harvesting? Wow, then no wonder that wine makers really enjoy their work. This is so relaxing. So soothing. So…
Grapes from Westhofener Absterde
I was completely immersed in my own thoughts and totally unprepared for the vocal eruption that hit my ears like a roaring tsunami and almost threw me onto the ground. It came suddenly. It came fast. And it came from nowhere, totally unexpected.
- M i i i i i i i i i r a a a a n ! ! ! !
It was
Julia
…
Her voice no longer soft and feminine as silk. This was a deep, firm
SHOUT
that exploded in the air and ripped the silence apart, leaving me completely disorientated by the sheer force in her voice as she shouted. Was this really the same sweet, soft
Julia Keller
? What on earth was all this racket about and why was she shouting?, I wondered.
- What is it?
, I replied almost whispering.
- BUUUUUUUUUUUUCKET!!!!
Bucket? What bucket??
, I wondered as I looked down the bottom of mine, where twelve grapes were now lying after my first cut of part of a grape bunch. Why would she need my bucket?
Empty it NOOOOOOOOW!
...she shouted with a voice that must have left the poor birds in the vineyard absolutely paralysed with sheer angst.
Astonished, I came to grips and walked towards her with my empty bucket just to see what the chaos was all about as I noticed that going towards her were also the pickers that came out to the vineyard together with me that same morning. And their buckets were full of grapes to the rim! With firm hands they all emptied their buckets and quickly returned to the position where they left to continue the picking. And now I saw for the first time how they were actually working. Cut-cut-cut…boom-bang-boom! The bunches of grapes were falling into the buckets at industrial pace and the workers seemed to be doing this as if they had never done anything else in their lives. No wonder they filled their buckets so quickly! Perplexed and somewhat off balance I returned to the row where I had started and stared at the grapes. Aha, so
THIS
was what harvesting was all about. Well, no worries. I could do it. After all, how hard could I be? It's not rocket science. So I kneeled down and began cutting. Cut! Cut! Cut!
THAT
will show them…! And would you believe it, having filled my bucket with only a little less than half, Julia's voice again erupted and broke the peaceful silence.
- BUUUUUUUUUUUUCKET!
I watched as the pickers rushed to empty their full buckets and return to their stations in less time it took me to straighten my back from this back-breaking position and take the first few steps towards the basket where all grapes were collected. With sweat pouring down my forehead; I emptied my few grapes and limped back to my row and again kneeled down to position myself to cut the lower grape bunches. This was really hard work! My back hurt, my hands were numb, I was thirsty and I just couldn't believe that
THIS
was what harvesting was all about. After an hour I was completely exhausted. As I fought the pain in my back I stumbled across the rows to empty yet another bucket, I passed Julia and asked her with a voice full of hope:
- Is it time for a break soon?
- Yes, in a few hours
, she answered.
Julia harvesting the Abtserde vineyard
That was it! I'd had it! I gave up. No more harvesting, please! After an hour my body was surrending and in no shape to cut even one tiny additional grape bunch. At least I've done it. I lost my virginity. I've actually harvested grapes for the first time in my life and in one of my all-time favourite vineyards. No longer a virgin I was happy to have done it, despite the numb fingers and the pain in my back.
And Julia…well, she's still my friend, I still like her osso buco but I will never look at her with the same eyes ever again. Every time I will taste another wine from Keller I will remember that heart-stopping...
...BUUUUUUUCKET, NOW!
And
Abtserde
…it will taste even more special now that I lost my virginity in this vineyard…
So back to the vintage report and lets begin with the King of Keller's wines.
2013 Keller Riesling G-Max
Question:
How do you approach a G-Max?
Answer:
You don't. Sit still. It approaches you. And this is the sound of the G-Max' approach.
Don't take my word for it, it
sounds
exactly like that. Like a native American listening closely to the ground realising a distant herd of buffalos are approaching. An powerful tremble in the ground. A slow, slow grinding build-up until it shifts into a higher gear at about 1:40 into the example I provide here and then just continues to grow and increase speed as time flies. However, I'm sorry to report this but this one was a disappointment. Having had the G-Max from various vintages single-blind, double blind or just poured openly in front of me, I have learned one thing – that I seldom score this wine below a perfect three digit score, since the humble opinion of this particular wine aficionado happens to be that G-Max is one of the very best and most precious wines on planet Earth. Period. But this is not a hundred-point-wine in my book, hence the "disappointment". Yes, I'm sorry, but I have to call it as I see it. The experience of this one is best described by a comparison with a wine from Reinhold Löwenstein, up there on the northern shores of the Mosel River just south of Koblenz. I don't know what he did in 2005 but in that vintage I stepped up to him and actually accused him for not even using grapes in his wines (is that really allowed according to the German Wine Law?). The wines were brutally mineralic and display not a microscopic glimpse of anything that has to do with fruit but rather just stone, rock, pebbles, slate and...stone again. Like liquid mineral, stones and its components just squeezed together with such a pressure it comes out the other end as a liquid. This is what G-Max is to me. Completely
naked
. Noty even a leaf to cover the most private parts. I don't even bother looking for any fruit and should I find a distant note of grape fruit or any other citrus fruit, or may it be peach or anything else, it would still just be like a glimpse of the eye, like a single flap of a butterfly's wing – there it is and now it's gone – did you see it? Like a firefly in the night, just a quick blink. But there's more to this wine that simply must be mentioned to give it full credit. It's the way it approaches you once you suck it in and make contact with your palate. This year, like most years, it doesn't come bursting through the doors and takes you by surprise, but it does it like
this
from the beginning. You don't have to see the whole thing through – just the beginning – because this is the way it sneaks up on you, slowly...building momentum, increasing volume, growing, shifting up a gear, expanding. All in composed and delicate style, almost soothing you to a hypnotic sleep and sleep you would had the lure of this wine continued to drag you in with this lullaby but then, as the midplate approaches and you're more into the core of the wine,
something
happens. Very scary, I agree! And suddenly the innocent beginning isn't so innocent any longer and instead you are in the middle of the Borg Hive, meeting the mother (turn-up-the-volume-and-you'll-get-my-point), the
Mutter
of all German wines... So fruit characteristics, and the fact that it's utterly balanced, highly delineated, totally transparent, that it cuts you til you bleed to death...who cares? Did I mention the finish? It refuses to leave your palate. This. Is. Outrageously. Delicious. I can only thank my lucky star that the discussion about this wine was so focused that no one noticed the arm coming in front the left, flying low above the table to avoid radar detection, the stealthy hand that grabbed the bottle and the pull-back of the captured prey for a refill in my glass before anyone else had a chance to react or realise what had just happened. If the production of G-Max was exceedingly low this year, I'm very much to blame. Sorry...
97-99 points.
On another note – one might believe that being a friend to Klaus-Peter means that I also know the location of this vineyard, which is supposed to be a secret. But the truth is, I don't. Know where the grapes are sourced from, I mean. I have always suspected it to be some kind of hypothetical blend of really old vines from Hubacker or Morstein but I really don't know. Sure, it buggers me a bit not knowing; not for the secret itself (some people might feel that it adds an aura of mystery because no one knows where the vines come from) but for the fact that you can't couple it with knowledge about the
terroir
which would be extremely fun, interesting and above all educational. Most importantly, in my opinion it would actually add to the cult status and impression of the wine compared to not having the vineyard (or subplot) location disclosed. Now it's more like drinking a great wine, like a Monfortino, and acknowledging its greatness but not knowing where it's from and thus preventing anyone from having a most interesting discussion on
terroir
, vinyerad characteristics and why the wine tastes like it does – because of the age of the vines? Because of a higher percentage of active limestone rock in the soil? Because of the nutrients or lack thereof in this particular subplot? Or any other of zillion interesting things to discuss with this wine. After all, that's what we ultimate Riesling aficionados and wine geeks love to do. Being such an outstanding representative of the best white wine this planet can achieve, I believe it deserves its rightful moment and place in the spotlight, just like other icons such as the Romanee-Conti plot of DRC. If it's to protect the vines from intruders, there wouldn't be any need to disclose the exact location of the subplot but just basic information of the parent vineyard, because that would make for interesting comparisons with other wines. I also guess that such a revelation could also have a detrimental effect should the wine originate not from its own vineyard but from a subplot in one of the other existing vineyards owned by Keller, then the prices on those might escalate as everyone will "feel" the proximity to the great G-Max and try to come closer to it by purchasing Riesling from the same vineyard. And as for finding it, I think no one in their right mind would go around crawling on all fours among thousands of rows of vines trying to pinpoint such a location. Sorry for the rant but just because Klaus-Peter is a friend doesn't mean I can't criticize him... :-)
Would you like some comparisons with impressions from previous vintages of this magical wine?
2008 Keller Riesling G-Max
Helmut Dönnhoff should avoid tasting this wine...as he would probably be highly suspicious. WHERE did Klaus-Peter found the grapes for THIS wine!?? It tastes like an exact copy of his Hermannshöhle GG. I'll let the two gentleman battle this out on their own and simply offer my personal impressions here. One thing first. To me, this is a better wine in 2008 than the already awesome 2007 G-Max. Deeeeeep, stone, (rock-stony), mineralic and...at the same time (explain this if you can!) like someone had thrown small chunks of tropical fruit, some melon and even some marzipan in-between the big, grey chunks of pure rock. Yesterday it seemed more lean but was vibrating like a V8 engine, clearly showing that somewhere beneath was about to come out. Today, it simply added even more depth, more roundness, more spiciness and more texture. It has become a more complete wine and I bet you that if you would be able to taste this wonderful wine day 3 and day 4, it would become even better. It's not there yet. The perfect, three-digit score. Today...it's just teasing you, shaking that little sexy hump and whispering naughty things (pardon the obvious male chauvinism here). It's nothing less than a slutty wine. Sorry for that comparison but that's the only way to describe the unnerving
teasing
...
98-99 points.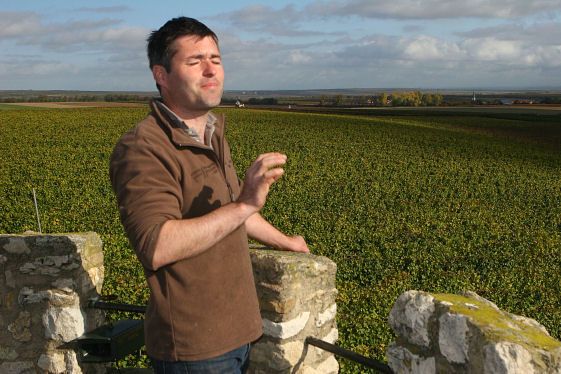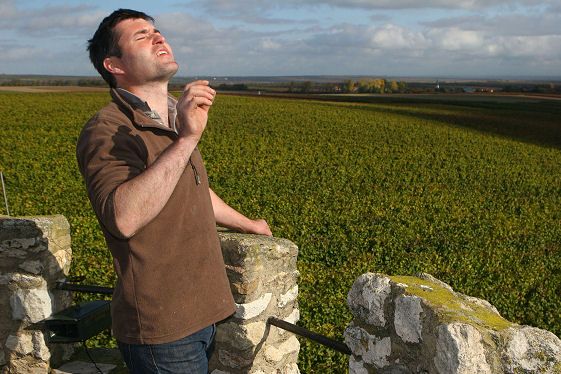 Maestro Keller conducting his vineyard orchestra
2009 Keller Riesling G-Max
So I asked him this time, from where does the fruit come for this wine but he wouldn't buckle. I don't know who was most surprised, me for Klaus-Peter still not wishing to tell or he for me not appear to push harder to find out the truth. To me, it's not a matter of really needing to know the secret behind the wine but more so to know from which soil it derives its wonderful qualities, to "understand" the wine better. So not knowing anything from where it originates, my impression could be summed up in one word. Stalingrad. Okay, I wasn't there and we need to remember that there are actually people alive today who witnessed the unimaginable brutality so I will be careful with the paraphrasing here but having read about this cold, steely place and its hardships, it gives me glimpses of how I feel about this wine. It's "rough", hard, cold. It's brutal. And it's difficult. This is G-Max to me. Plainly speaking, it tastes like it's "brutal". Hard. Steely and rough. Yet...and here we go again...delicate like a Russian ballerina at the Bolsoj. I have said it before when describing wines from this vintage and I'm saying it again...like eternal lightness. Come to Daddy! Stone... Did you hear me loud enough? No?
STONE!
Precise, brutal, light and utterly elegant. In fact, is there even any fruit inside this creature or does it consist only of pure, crushed rock? I don't know. An "impossible" finish. You simply surrender as it really lingers on and on and on and...and makes it literally impossible to ignore the powerful finish while trying to go on with the tasting and focus on another wine. Potential for pure perfection and without a doubt a strong candidate for the riesling of the vintage in my book. Strange. I usually don't have the G-Max as my favourite but this time I simply had to surrender. Can you see me waiving the white flag?
99-100 points.
2009 Keller Riesling G-Max (another bottle)
Come summer, come autumn come another bottle of the 2009 G-Max in front of my eyes.
DANGER ZONE!!!
A warning to all you G-Max owners out there:
NEVER
put a bottle of this glorious wine in front of me if you have ANY intention of keeping it intact. I'm like the
Cookie Monster
on Sesame Street. I crave. I need. I want. And I take. So beware... Another sip. Another sniff. And the reaction...?
AHHHHHHHHHHH!
Such a delight! This is just absolutely breathtaking juice! Almost impossible to describe the sensational feeling of this awesome elixir but I'll give it a try. First impression, before you even come to any attempts of analyses of fruits, spices or texture, is that of...utter transparency. Completely weightless yet heavy and powerful like a bulldozer it shines with the brightest light of vibrancy and completely ocillates out of orbit. A textbook example of how a wine can be delicate, transparent, ultra-light yet have the most brutal force you can possibly imagine in a wine. Stones, heck, throw in rocks as well, mixed with powder of minerals and you have the outer shell. This is followed by the most intriguing layers of aromas and such an abundance of flavours so vibrant it literally tears your palate and body apart and throws you down on the floor. You simply surrender. White flag waving... So where's his wife Julia? Not here. Where's Klaus-Peter? He's looking the other way. Zipper down, pants off and my God, would you believe what a powerful thrust you can achieve as the full rotors swing gets your helicopter
airborn in the split of a second and propells you out of orbit. Oh boy, does the earth look beautiful from up there in the
sky
... This is simply one of the best wine experiences I have ever had. A truly outstanding wine.
100 points.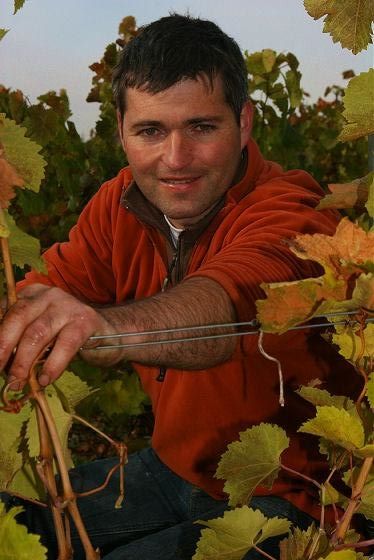 2011 Keller Riesling G-Max
Brutal. Like Brutus.
Et tu?
That's enough. No more descriptions should be necessary. Looking at my tasting notes I see that it's actually what I wrote
"vill helst inte göra mer reklam"
, Swedish, translated to something similar to
"I prefer not to do more PR"
. Curses (damn, shit, ****, you-name-it). Spices (loads of it). Salty. Like the ocean. Extra everything. Jam-packed with coarse gravel stones mixed with more finely crushed stone powder and finally topped off with liquid gold, liquid stones and a tremendous brute force. It's so overpowering rich and dense in texture on the palate. Extremely different compared to the ballerina of Morstein and the delicate, nervous child of Abtserde. This is an elephant trampling on like a bulldozer crushing everything in its path through the fragile glass walls of the surrounding greenhouse. Leaving no prisoners behind. And that lovely minerals + salty peach = succulent fruit flesh between your teeth kind-of-a-feeling. Monstrous finish that goes on and on (and on!) and seems to perforate your skin with its power. This is so damn impressive... Impeccable winemaking from an impeccable terroir. So where from? I have no idea, to be honest. Certainly not from Absterde. My best guess is some ultra-old vines from the best subplot in Hubacker. Possibly Morstein but I never get this sheer density or tremendous richness from that vineyard so I really don't know. What I DO know and fully stand behind is the
99-100 points
. Honestly, it's just for show. The score range is for the fact that it's drawn from the tank but there is just no way José that this wine could merit anything less than a perfect three digit score. Amen.
2012 Keller Riesling G-Max
I don'ty know if Klaus-Peter really feels comfortable about me sharing my impressions about this wine but here it goes... First, we need some music. Not just any random type of music but something that sets the correct intro for this particular wine. Cue music...and
intro
! Then to the tasting note. Klaus-Peter, you know what? I don't even need to drink this wine. Zipper down, pants off and...
TAKE. IT. OUT.
And just sit down – for the moment – and calmly remain in that position with one hand grabbing the glass and just indulge in the mesmerising, hypnotic aromas that oozes up from the glass, leaving you completely disoriented. The other hand? Let's focus on the wine, please. Brutal. That's the best way I can describe it. Absolutely BRUTAL. On the nose, the fruit components have inititially been scared to oblivion – this is solid, mineral rock in a liquid form. Minerality sprinkled like saw dust over the entire wine. What is even more telling than just the impression of the wine, is the way it affects the people around trhe table. Up to know a lot of chatter and discussion, even some laughter and someone telling a story but with this magic in the glass, everyone silence... No one says a word. Everyone is deeply immersed in this hypnotic elixir. What an eerie feeling... Reminds me of a solar eclips when all the birds suddenly stop singing and everything is dead quiet for a moment, until the sun comes back. Silence. People sniff, people sip, but no one is saying a thing. I think we are all thinking about the same thing. The presence of a force that few have witnessed before...
Three Rings for the Elven-kings under the sky,
Seven for the Dwarf-lords in their halls of stone,
Nine for Mortal Men doomed to die,
One for the Dark Lord on his dark throne
In the Land of Mordor where the Shadows lie.
One Ring to rule them all, One Ring to find them,
One Ring to bring them all and in the darkness bind them
In the Land of Mordor where the Shadows lie.
Sure...you might find some fruit in there after some time. Possibly some white peach, white cherries mixed with nutmeg peel and mint but it's easily forgotten in the vast sea of tranquility as the stony, mineralic oceas flushes you down like a fetaher down a water pipe in the kitchen. Brutal minerality with the most delightful elegance. Hauntingly deep layers of bricks and stones, spices and an intoxicating crust of minerality deep down its center core, this astonishing G-Max seems to have no limits - it penetrates you deeply beoynd your last line of defence and forces you to surrender. I could use words as complex, seductively hypnotic, invigorating energy but really...no words could do this perfect wine true justice.
100 points
without a shaddow of a doubt and one of the best wines I have ever put my lips to. Now...where did I put that other hand? Where's the winemaker!? I
need
to show him exactly how much I appreciated his wine! Give me your
address
there because I'm aroused and
really
in the mood for some
dirty talking
now after this gorgeous Riesling!
The voice of G-Max? How I would describe its beauty? There's only one person on this earth that can truly portray the trembling, earth-shattering voice of the G-Max. He's just getting warmed up until 2:30 where he starts approaching the true voice of this Riesling, reaching the true G-Max level at 4:30 into this
masterpiece
.
2013 Keller Riesling 'RR'
Harvested from a red soil with high iron content amidst the vast sea of pure, yellow limestone in the Kirchspiel vineyard. The RR seem to have become a perennial favourite of mine and again this year it delivers its stuff. Wonderful aromas on the nose as the wine is poured with a touch of elder, freshly pressed grapes, beautiful pink fruits with a precise, pure core of stones and minerality and, towards the finish, also, believe it or not, those Basset's wine gum candy (the white one). There's this beautiful harmony of the whole package, everything in perfect balance with no efforts to impress too much but just simply a very delicious wine indeed. Lovely touch of salinity on the finish and overall maybe even more elegant and slightly drier than I can remember from previous vintages but in any sshape or form, this is difficult not to like. A wine that accentuates your ambition to just grab the bottle again without too much time wasted on analysis. Is good! I
like
!
92-93 points.
2013 Keller Hipping Riesling Grosse Lage 'R'
It's kind of amazing to follow the development of this tiny subplot in the Hipping vineyard in Nierstein –
AND
its sibling from nearby Pettenthal. It seems that everything Klaus-Peter touches here with his magic sword turns into shiny gold. It's as if quite impossible to make anything subpar here but having seen the winemaker and his wife in action I know there is a lot of painstaking work to achieve these Olympic heights. Another indicator that something very different is taking place here, as opposed to the surroundings, is just the very fact that you can so clearly see where Keller's rows begin compared to their neighbours. Obviously time is spent in the vineyard
working
with the vines here – what takes place in the neighbourhood rows, I have frankly no idea. But I don't like what I see in those rows of vines. You can see with your own eyes that the wine won't be as good and if that doesn't convince you, feel free to taste a grape and you'll notice we're talking about two different leagues here. Cloyingly soft and mushy, compared to the small, energetic grapes from Kellers plot in Petteenthal – when you taste them the explode like champagne bubbles in your mouth. You feel that this is going to become a stellar wine. So clearly, there is a lot of tender work taking place in this vineyard and thank God for the fact that hard work really shows in the glass! Kudos to the vineyard manager. Yes, you've guessed it – the same person currently holding the position of cellar master, sales manager and head winemaker. And it's even more mindboggling to comprehend that this tiny, tiny little subplot can produce so many different wines – simply because the stubborn winemaker insist of producing exactly the wine Mother Nature gives him the maximum potential to do – not what might be economically the smartest choice (all in on the GG). His cult subplot in Hipping is a
whopping 0.62 (!) hectares.
Imagine the endless fields of rows, as far away as your eyes can see...
not
! Yet, from this tiny almost non-existing plot he produces both the Hipping GG, the Hipping R, the Hipping Kabinett and the Hipping Spätlese. Yes, you can imagine the "humongous" quantities of these bottles, making the exercise of assessing these wines of almost academic interest only. Oh, and let's not forget the wine! Again, shining bright like a diamond, sunshine, everything is light and completely pure and energetic. White peach – that's something I have come to associate with Hipping now that I slowly start to get to know this magical vineyard. I think the salty crust on the finish coupled with the rocks-steady minerality somehow makes the flavour of white peach become more pronounced, especially since it displays this dancing easiness. Compared to the dry GG, I would say that that the extra residual sugar frees additional layers of aromas and flavours that the drier GG doesn't deliver. Or at least not with the same balance.
94-95+ points.
2013 Keller Pettenthal Riesling Grosse Lage 'R'
Same story here – about the scarcity I mean. From an even more "impressive" mega plot of
0.29 (!!) hectares
of the Pettenthal the grapes harvested need to be divided among Pettenthal GG, R, Kabinett and BA. You want a pallet? Sure! Bring your truck and back the car up so that the cases can be loaded into the car... And ditto on that speech about same story also for the taste of this wine. While I found the Hipping, magnificent this
too
displays the same magic and similar flavour profile but there really
are
those extra layers of both aromas and flavours that seem to come out even with more filigree and balance when the wine isn't fermented completely dry. Superb focus in every drop of this juice with even an increased tension and energetic uplift in this wine compared to the dry GG from Pettenthal. Absolutely gorgeous.
95-97 points.
My only complaint about both these "R" wines are the labels that don't properly reflect the uniqueness of these wine in the Keller line-up. I think they should have the same label as the GGs with perhaps some slightly different colour. Had I been the boss I would have these 'R' wines from Nierstein with a silver label to symbolise their shining lightness and unique mineralic core.
Okay, so here I was sleeping, it was in the middle of the night, when the phone rang and Klaus-Peter was on the phone, almost shouting in a high-pitched voice. I tried to calm him down and asked what has happened. It's the 2013 vintage he said. And tow wines. "Yes?", I wondered. What about them. Then he made a
claim
.
Really?? "You brought it back??
, I asked.
"Yes-yes! I'm telling you, man!"
, Klaus-Peter insisted. Clearly wide awake after such a bold statement I took the first flight down to Germany to check it out.
2013 Keller Niersteiner Hipping Riesling Kabinett
(labelled as" Nierstein Kabinett H" because of VDP rules but that will change as soon as I take over the presidency of the VDP – watch out, Steffen! Here I come!)
Don't get me started because I will never stop, so before anything else I'll share my impressions about the wine. Last year, the two Kabinett siblings were both astonishingly delicious but there was a slight nod towards the Pettenthal at among fellow wine aficionados at most tastings when we gathered and shared some good food, good laughs and compared impressions. Usually the Hipping bursts out of the gates from the first second and literally explodes in your mouth but with time in the glass and among friends at the table, the Pettenthal usually slowly came crawling and finally overtook the Hipping on the finish line. Not as a photos-finish but with some extra space between them. As if the Pettenthal had a an extra gear to shift up to for additional depth and focus on the finish. This time around it's a much tougher exercise to separate these two. This is as crystalline pure as a wine can get. Do you want to see how it looks like while at the same time get a feeling of how stony and mineralic it might taste. Here's your chance. White flowers, white light, freshly squeezed pink grapefruit, powdery particles of flint and slate, utter laser-like focus drilling itself into your taste buds whether you like it or not. This is a showcase of a how outrageously delicious a Kabinett can be when everything is absolutely right. The site, the vintage, the winemaker and the conscious ambition to make the best out of the vineyard despite the fact that the wine will not fetch astronomical prices compared to other vinifying options. Immensely impressive it is with such ease I say this that today there isn't any other German Riesling Kabinett than can compete with this sheer brilliance, other than its neighbour sibling below. And also, even a notch or two above the quality level of the 2012 vintage. But never forget, in my opinion, of course.
95-97 points.
At one point in the tasting, I had this Kabinett above the Pettenthal. At another moment, it slid somewhat behind. Then they were equal, only to again change. There's certainly no precision instrument to separate these two from each other – two different styles with one thing in common – these are Germany's best Kabinetts at the moment and offer a drinking pleasure not only making them divinely delicious as a Kabinett but as a drinking experience in general and thus belong to the great sensory experience in the wine world today. I'll come back to the final evaluation when I taste this wine again at the end of this month...
Just as an intermission, a reply from last year's impression:
2012 Keller Niersteiner Riesling Kabinett 'H' (from Niersteiner Hipping)
It would almost be easier trying to explain what you don't find in this stunning beauty of a Riesling Kabinett. It has so much going on here that you have a hard time continuing to the next wine as you feel you just don't want to leave this one. A little frozen licorice and mint, a ton of crushed stones, citrus peel and hallelujah what an absolutely riveting energy! It doesn't dance down your tongue, it literally
bounces
down with maracas in its hands simultaneously doing the Brazilian lambada and singing like an opera as the most delightful of fruit flavours mix with the clear-cut minerality. Like King Arthur's sword penetrating a monolithic stone, it oozes of slate, stone and crisp minerality as the stone is cut with one big swing of the magic sword. One could argue that no grapes were used to make this wine as the stone character is so pronounced from the very core but if you put your ear to the wine and taste you sense it's almost whispering out soothing aromas of white flowers, grapefruit zest and bubbly lime. So utterly playful and delicate, this comes through as a wine you can't keep long after popping the cork. You'll flush down this wine in a blink of an eye.
94 points.
2013 Keller Niersteiner Pettenthal Riesling Kabinett (Auction)
(labelled as" Nierstein Kabinett P" because of VDP rules – but as soon as I take over the VDP presidency you'll see some major changes...)
If there's is one lasting impression of these two wines, it's that both are as delicious but the Hipping has gained even more levels of delicacy from previous vintage while the Pettenthal stays at the same high level. This is breathtakingly wonderful on the palate, so soft-spoken, so caressing yet with such a vivid explosion of vibrant acidity, mineralic energy and this sexy, firm grip on the inner core holding everything together. It's this awesome combination of a soft and velvety coating on the outside and a core of case-hardening steel inside. This is even more filigree and lighter than the Hipping, as difficult it may be to imagine and it seems to be oscillation between the two opposites of being delicately soft-spoken with a misty velvet soothing you with seducing flavours of white peach and pink grapefruit and at the other end that brutal force, the laser beam of punch that hits you in solar plexus.
Bazinga!
95-97 points
. As with the Hipping, I'll come back to the final evaluation when I taste this wine again at the end of this month... Sadly, this wine is destined for the VDP auction at Bad Kreuznach. I mean, that's not only bad news since I really believe that an icon like this should get it's true recognition and be noticed by as many wine lovers world-wide as possible but sad because I believe the prices will be – justifiably so – astronomical.
And again, as a comparison, impressions from the previous vintage:
2012 Keller Niersteiner Riesling Kabinett 'P' (from Niersteiner Pettenthal)
I will say this already here and now - remember where you heard it first - this is the single greatest Riesling Kabinett I have ever tasted and is a wine climbing so high up on the quality ladder it almost falls down on the other side. Forget the flavours for a while and listen to this. There is absolute
zero gravity
here. It's not almost weightless - it
HAS NO
weight. And I don't care about the Higgs boson find at the CERN particle accelerator - read my lips: this Kabinett
HAS NO WEIGHT!
That's the feeling you get. It's not just transparent, it's like the most outrageously sexy see-through top worn by the most beautiful girl you could imagine. The core of the wine is the mineralic backbone, cut out like diamonds with laser precision. With crystalline, frozen, ice-cold clarity it explodes of white peach, elder and the most delicate sensation of pink grapefruit ice-cream. So utterly compelling with soothing yet razor-sharp ripe acidity bouncing between the hard pieces of wet flint stones. So pure, such filigree, so outrageously precise and balanced, such a riveting package of vibrating energy, this is like a celebration of life as it dances and sings to you, reminding that you are alive and kicking and that, my friend, is something you should celebrate. Life, at its uttermost level of enjoyment.
96 or 97 points.
Choose for yourself. I go for the
96 points
today as I believe it will even be a notch better after some more time in the bottle.
Obviously, to my palate, many of the 2013s at Weingut Keller turn out to be as mind-boggling delicious as one could have hoped for. I believe that the vintage in particular gave the raw material and the addition of weather factors favouring wines with residual sugar and I can only thank Klaus-Peter that he picks up the gloves thrown by Mother Nature and acts upon it. The trend is probably scewed heavily towards the opposite, that winemakers take every opportunity to invest time and effort into their drier wines and that everthing with GG on the bottle creates a particular lure. On that basis it's so refreshing to see Klaus-Peter acknowledging the heritage and the fact that some of the most unique and precious and...delicous wines from the German soil are in fact wines with residual sugar. They just need a wizard to carefully handle them and provide the catalyst for them to flower and develop into the truly beautiful swan a lighter Riesling like the Kabinett really is. I believe this is an important discussion – why a winemaker like Klaus-Peter can produce wines at this incredibly high level and what the different styles really mean and where their true potential lies. Having talked to Klaus-Peter exstensively about these topics, I think I'm staring to get a good picture of what makes him tick and what thoughts are swirling around in his mind. In particular, it's been interesting to discuss the differences between the Nierstein and Westhofen vineyards, the style and characteristics of Riesling (especially compared to the estate's own wines ten years ago) and what it really takes to make a wine that takes those final steps up the ladder to join the rare club of the Truly Great Wines. Our discussions have been many. The concept of Kabinett to begin with. And second, what is truly missing, in my opinion, in the minds of many professional wine critics. But above all, a reflection on the two beautiful siblings in Nierstein. Obviously Klaus-Peter Keller has found two brightly shining diamonds in this two historical subpblots of Hipping and Pettenthal. No wonder since it's the very best sites from the legendary Karl Franz Schmitt estate. What pleases me the most is that the legacy of this extraordinary vineyards will now continue and not only that, I have every reason to believe that Klaus-Peter Keller will not only be a safekeeper of the legacy but also improve on it and make these two sites even more historically important once we make a halt and look back to these days. They are so close, yet produce wines that feel so different but best of all: they have the same underlying expression of the terroir just with a slightly different nuance. Where Hipping is the most flirty and immediately appealing, the Pettenthal is more sensual and caressing. Flirty vs Sensual.
Hipping
vs
Pettenthal
. Same song, different versions. Check them out and you'll understand what I mean.
With these two different Kabinett siblings in mind, it's a special and rare treat to sit down with these wines side by side for hands-on comparison in the glass while simultaneously discuss them with Klaus-Peter . He clearly has a very precise and focused idea (just like the ditto texture of his wines) of what he wants with his Kabinetts. He doesn't want them to overly "sweet" – but rather striving for a
real
Kabinetts with 84-86° oechsle – not a declassified Auslese so common at many estates.
"I think the huge problem is that many winemakers think that more is better but sometimes less is more!!"
, Klaus-Peter says.
"A Kabinett must be a wine where I can empty the bottle in 5 min – crisp, racy, mineralic – I cannot image a more sophisticated summer drink – it evaporates on your palate. This has always been my dream to produce such wines and I am very happy I found the perfect soil for it."
I agree; in style it's a bit the way Nierstein wine from the mid-80s tasted – not hugely concentrated but (also fort the GGs and the Hipping 'R' and Pettenthal 'R') full of minerality, purity, balance and precision. With an alcohol of more like 12 than 13, they are finely crafted and not overdone, more like dancing over the tongue instead of plowing through your palate like a bulldozer –
"like the Prima Ballerinas Ekaterina Maximova or Marina Semyonova at the Bolshoi Ballet in Moscow"
, Klaus-Peter adds.
"It's all about bringing back what once was there and then disappeared when the times changed and the preferred style shifted towards more powerful and heavy wines. Do not misunderstand: they have power – but much more refined than many years ago. It's like cooking – many use cream or a lot of butter to make the dish tasty – mine is as tasty but without the cream. This is a style that has to develop and I think with 2013 we took that next step. Perhaps it's that I turned 40 and wanted to make myself a present – 2013 is nearly excately what I always dreamt of."

And in 2013, Klaus-Peter produced more off-dry wines than ever before. Now, with the two "golden" FK Schmitt parcels in Nierstein, he has the possibility to work on red slate terroir which, together with the microclimate in Nierstein, need a completely different winemaking philsopohpy compared to the pure limestone soils around Westhofen and Flörsheim-Dalsheim. I'll let Klaus-Peter continue do the talking:
"Everybody in Germany seems to make more and more Riesling GGs, no matter if the growing season and ripening creates an optimum vintage for it or not. We love Kabinetts with low alcohol, racy minerality and precision – those Kabinetts are the true GGs of Nierstein because they cannot be copied anywhere else in the world. They taste like liquid slate from a high-altitude mountain source and are so fresh and animating to drink that even a magnum too small. What I want to say is, for wine lovers, Germany is like a candy shop for kids. You find the great, dry Rieslings, but please don't forget the off-dry and light Riesling Kabinett and Spätlese. Important: those wines are not "sweet" – a lot has been damaged by Kabinetts that tasted like an Auslese or a Spätlese with 100 oechsle but look at my Kabinetts from Nierstein – they are both in the low 80s° but they taste like liquid soil if the vineyard management is good."
Well, amen to that! I think Klaus-Peter put it perfectly. For true greatness, a wine doesn't HAVE to be heavy and have brute power to be a superb wine and that's what I think Keller has demonstrated, not only with words but with the resulting wine in the glass. Oh, and speaking about prädikats. Let me state that I'm very much against the common practice among wine critics (when reviewing German riesling) to simply assign higher and higher scores the higher the prädikat level (i.e., sugar level). It's almost as if a Kabinett has an inherent general "roof" at 90-91 points, a Spätlese tops out at maximum 95 points, potentially a little higher for the best Auslese and then the stickies with a potential score level of one hundred. I believe that any wine, no matter the grape, age, terroir or prädikat level should have the potential of scoring a perfect three digit score IF that particular wine happen to move you in a way that merits the accolades. Of course, the argument against my complaint is that a wine of Beerenauslese level or even sweeter, possess certain elements and complexity that can only be achieved in a golden, botrytirised liquid like a BA or TBA. I understand that argument but I don't agree with it. To me, a Spätlese can be as thrilling as a TBA and exhibit as complex aromas and layers of flavours – and above all an outstanding balance as any sweeter wines. I have no problems assigning a perfect score to such a wine if it moves me to that level and If I feel that a wine simply cannot be better, for MY palate of course. Therefore, please let me remind you that when you happen to read my impressions on German wines, wines don't get any help just because they are late harvested sweet wines. Sure, I like them, but I like them as a wine, regardless of sugar level and as you might have noted, my ratings on the dry wines are every bit as high as the sweet wines…if I happen to find the wine as compelling as I do from this particular winery. Unfortunately, this seems to be an exception among most critics I follow. Sort the ratings of German wines and you will probably see a perfect correlation between sweetness and scores. It's almost as if you could simply ask for the sugar level, follow the line on the plotted curve in the standard chart and you can tell the score. I believe this is simply…
wrong.
The ironic thing is that there happens to be one wine critic that doesn't (or didn't) follow this practice but who very well could assign a high score to a Spätlese simply because it was a marvellous example of fermented grape juice: Pierre Rovani. Unfortunately his reports from Germany were not even close to the brilliant work of David Schildknecht, whom I believe has been doing the Riesling aficionados a great favour by his outstanding contributions since he began working for uncle Bob. However…(I'm sorry David, we can fight about this when we meet), I do believe that even a man of this Olympic stature has his faults; the number one being that he has far, far, far too much to cover for the WA. I don't feel he has time enough to devote his full attention to a wonderful wine region like Germany. Although, I must confess, he seems to be the hardest working man in showbiz because at every estate I visited one of many autumns they told me that David had just been there a day or two before me. Another shortcoming, at least from my own and highly subjective palate, I feel he has completely missed out on the stellar quality level of the best dry wines from many German producers.By now I've had so many encounters with the best German dry Rieslings tasted side by side with some of the best white wines from around the world and if not better they are at least as good as some of the best of best I have tasted, yet I feel that the ratings doesn't always reflect that. Again, like with the prädikat wines, I sense there being some kind of "invincible" barrier at the 95ish point level for dry Riesling. And I'm not discussing wines from Keller here but from any German wine producer. It seems almost as if there is a mind set, unconciously or not, that
Nein
, German dry Rieslings can't be as good as the best white wines other parts of the world. Yet, pour yourself the most highly priced Chablis or the best Montrachet (two ends of the textural spectrum) and compare them side by side with a G-Max or Absterde GG and you'll see what I mean.

2013 Keller Niersteiner Hipping Riesling Spätlese
(labelled as" Hipping Spätlese" because of VDP rules)
I'm getting tired of writing words like "crystalline, filigree, transparent, laser-like, buoyancy, tension, energy". It's the same damn words I find in almost every tasting notes from Keller but...yet you
do
find all these mesmerising characteristics in this beauty of a wine! The only difference here is that – surprisingly for a Hipping – it doesn't scream out white flowers and white peach but rather yellow fruits (peach, melon, apple, you name it, as long as it's more yellow than white) as the base with white flowers and anything typically white in its flavour profile sprinkled across the palate and then rinsed – no –
flushed
in a wave of fresh menthol and minerality. Not for the faint-hearted, because this is outragously sexy and
flirtatious
. Absolutely gorgeous and completely irresistible once you have taken a first sip – your arm is moving towards the bottle and your hand is already grabbing it as the others around the table shout:
"Don't let him empty the bottle on his own!!"
.
Too late!
They have to be quicker next time.
95-96 points.
2013 Keller Morstein Scheurebe Beerenauslese
Ahh, the Scheu again. Always brings a smile to my eyes. Dried honey coating on already dried fruit and then suddenly loads of fresh lychee fruit, add some white peach, orange, some sugar and you have this perfect dessert wine that will make you gobble down the liquid more likely drinking it in a more composed, aristocratic pose. What I love about this wine is the combination of being so rich and aromatic while still retaining superb freshness and lift from the racy acidity. A rare treat in most sweeter wines. And no wonder, coming from Morstein, the roots seem to have been digging deep because the mineralic core is like a shining diamond in the middle, surrounded by all this luscious fruit and making this Scheu so incredibly light and vivid. Like an energy boost. Shaking, flirting, dancing, the music is load, there's a party on the beach and you are invited! 94-96+ points.

2013 Keller Silberberg Rieslaner Beerenauslese
Here you have a more pronounced sweetness coating your palate, with some marzipan and guava adding to the juicy, rich tropical fruit, with the sweetness coming in the form of dried fruits. Despite the obvious BA-ripeness it still displays an absolutely pure, crystalline structure throughout the palate, with nuances of citrus and superb racy acidity making this almost refreshing despite the sweet, juicy richness. 93-94+ points.

2013 Keller Morstein Riesling Auslese
Sweet Lord...what do we have here? Take the fabulous Morstein GG and make it into an Auslese and this is your result – a crisp, fresh, beautifully bright and mineralic sensory experiences from the very first sip throughout the palate, lingering on the finish with vibrating energy and wonderful tension. An Auslese that really lifts you up with its pure transparency. Again such a pitch perfect example of how a wine can display ripe sweetness yet feel more as a refreshener than a dessert wine. You find yourself literally drooling the succulent juices down your chin as you try to pretend you're in control. A wonderful oscillating nerve focuses the finish into a bright laser beam. A stunner! 96-97 points. It's becoming increasingly frustrating to taste a lineup like this when wine after wine displays such brilliance. Can he ever do something wrong with vineyards like this? Yes, he can, by starting to buy up more and more land to the point where he cannot manage them by himself anymore and by devoting more and more time for travelling and marketing. So there is a chance we could avoid these frustrating tastings but unfortunately Klaus-Peter loves his craft and is constantly working in the vineyards so I'm afraid we'll have accept more lineups like this in the future...

2013 Keller Abtserde Riesling Auslese
I mean...this is ridiculous. Like a delicate vibrato from the beginning. Again such a thrilling beauty in the glass and you need about a second for that first, quick sip to realise that you are in the presence of greatness. Again. It jumps out of the glass like a kangaroo (now that would be a surprise!) with the same hallmark nervousness so typical of Abtserde. This is really an unmistaken character – Hier kommen die Schweden!!! No wonder children were scared to death and constantly trembling with nervousness for what was to burst through the doors. It's like there is a historical memory from the rampaging war that took place among these hills several hundreds of years ago. Absolutely lovely midpalate, whispering with notes of white/yellow peach, tripping forward on tiny, delicate mineralic toes and finishing with a roar as the energy builds up tension like a bouncing pinball. 95-97 points.
2013 Keller Hubacker Riesling Auslese***
More of a BA-style despite the Auslese name. Sweet grapefruit juicy in a thicker but very pure and transparent style, with orange peel , honey, glazed yellow apple and botrytis. It's interesting to see the difference compared to the sweet wines from the other vineyards. This is a decisively a sweet wine but it doesn't have the same nerve compared to other vineyards. It is in no way cloying but this is sweet and a true dessert wine (or just by itself, a celebration life).
91-93+ points.
2013 Keller Pettenthal Riesling Beerenauslese
Seems as there is no limit to what this vineyard can produce, be it dry, semidry or sweet Riesling like this impressive BA. A wave of white, soft veil comes rolling on your tongue with a refreshing bubble spritz feeling like oxygene-infused, ice-cold water straight out of the kitchen tap. Lovely white nuances make you think of white grapes, white raisins, white peach and white flowers. Stunning juice and clearly is backed up by a racy mineralic finesse that makes the finish into a long and ongoing pleasure – you want to grab the bottle for more of that juice.
95-96 points.

2013 Keller Morstein Riesling Trockenbeerenauslese
No need for any score range here. I can tell you this already from the beginning. Sheer brilliance here. First an firm attack of clear-cut, razor-sharp acidity, giving way to golden flakes of crushed (first) and then melted powder of stone . Absolutely impeccable clarity here, it beams out layers of bright flavours like a beacon of light in the land of Mordor. Have I mixed up my notice, you might ask but no, this is a Trockenbeerenauslese, believe it or not. Laser-like acidity coupled with transparent minerality and white peach flavours throughout the palate, mixed with more tropical fruits like pineapple. It's really not the sweetness and the many layers of tropical fruit that makes this wine into such a beam of pure energy but the crips tension that holds everything together. I would not finish a meal with this wine but start the morning with a fresh, invigoration sip, knowing that it will be a bright and shining day. Okay, I'm in – give me a couple of cases, please.
100 points.
2013 Keller Abtserde Riesling Trockenbeerenauslese
I won't even bother using a score range here. This is utter perfection today and for the rest of my life. When I die I want Klaus-Peter to open the coffin, rub my body with this elixir and then offer a bottle to the party & celebration waiting afterwards. I'm sure the winemaker doesn't share my idea of fun. Opening up with I could best describe as red apple (you know, with that snow-white succulent fruit flesh inside), mixed with yellow tropical fruit and...botrytis. But without really feeling like botrytis. I know, as difficult to imagine as it is to describe but listen to this – in your glass you have a oscillating beacon of energy that PUMPS out rays of the most delicate flavours you can imagine. Since it's a TBA we're talking about sweetness, meringue, tropical fruits, vanilla, mango, yellow peach (succulent to the point of being totaly liquid), and then...red fruits. Don't ask me how. So many aromas, so many layers upon layers of flavours, so much richness and power and yet...oh yes, absolute clarity, absolute precision and the acidity similar to a singularity in space and a finish that is seemingly endless – a wine simply cannot taste better than this. People talk about Yquem I would choose this any day, any time. I hope people will realise that this is not just one of the best wines but one of the planet's true treasures and I can only hope that this will reach as many consumers as possible and not only rich investors who have no intention whatsoever to taste one single drop of this astonishing, mind-boggling golden juice. Had I been the winemaker I would register every single bottle and make sure it goes to wine lovers only, those who buy wine for consumption and sharing the bottled joy and sunshine with good food and good friends.
100 points.
An interesting observation is that the sweetest wines (BA and TBA) are basket pressed since 2012, when Klaus-Peter restored a morethan 100 year old press and he believes there is a significant increase in quality of the juice after that change. Well, who am I to disagree...?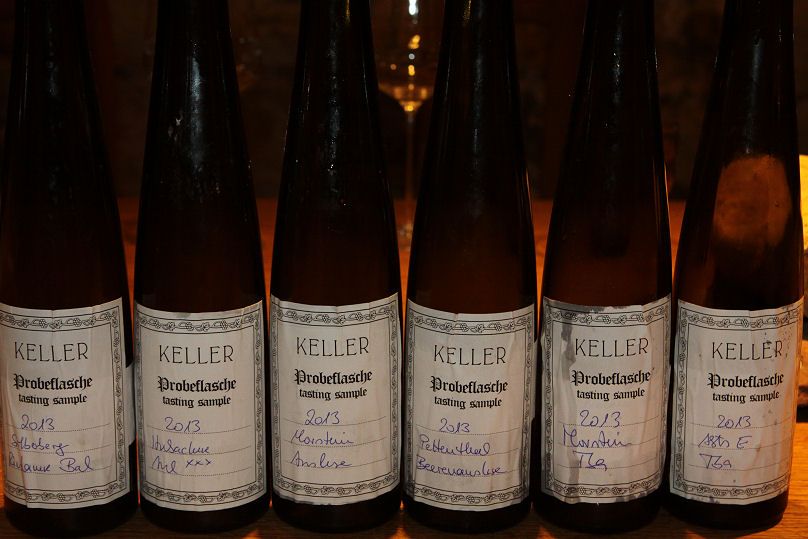 As you might have gathered, I'm a fan. And I think that 2013 at Weingut Keller has produced some significant mile stones to be looked back at with a smile in a few years. Some are hauntingly delicious, almost to the point where you wish you didn't taste them because now everything you put to your mouth will have to be compared to those Nectars of God. In my opinion, Klaus-Peter Keller has has one thing in common with other winemakers I know and respect: he evolves. There seems to be constantly on the move, always with a precise and determined direction. A focused mind with a clear ambition. Not from the ambition per se but more from the passionate curiosity. He never sits still, but seeks out information, seeks out new ways to manage nature's gift to him, having a curiosity of a young and eager student who never rest on his lees to long but instead looks forward, beyond the next hill, to seek out the challenges awaiting him there. Actaully, he reminds me of the Absterde Riesling when I come to think about it, constantly in motion, on his way to somewhere, always vibrating with this vivid energy. You see it in his eyes, or the way he talks and even the way he tastes and analyses his own wines. It's that laser beam of intellectual and emotional focus that does it. These type of curious people are winemakers on a mission, a quest, searching for something better and while doing it, they are applying the humble role of a student who is learning and contemplating on the discoveries already made.
Why is this so important? It tells me, that although the "ultimate" level might already have been reached with some of their wines, I KNOW that these curious and eager students will be even better for years to come as they get to "understand" their terroir better and better each year. Sure, they will always remain just that – students – since Mother Nature will constantly provide them with new challenges but one thing is always the same – the apparent lust for life and curiosity to suck in every new piece of experience and appy it to new set of tools. You simply cannot be mistaken by this high ambition when sitting down for a moment with Klaus-Peter to taste his wines. And the fun thing here is, that although I believe he is at the top of his game when it comes to Riesling, he doesn't seem to feel content by this astonishing feat. Try him... Sit there with him and sip on some Riesling and then suddenly change the topic to Pinot noir in general and Burgundy in particular. I have always wondered about which moments his eyes really are glowing with most intensity; when he speaks about Riesling or Pinot noir. Hum...maybe I'll conduct an empirical experiment on this topic the next time I visit him. Nevertheless, the concept of Red Riesling, as he calls Burgundian Pinot Noir and his own beloved Spätburgunder, occupies a great deal of his time and I'm positively sure he won't rest until the undulating hills surrounding Dalsheim-Flörsheim are producing some of the best Pinot noir in Germany. I have a feeling he won't settle for that but wants to take on the world, especiella with his new Morstein Alte Reben Pinot. Many years ago I was very sceptic, a few years ago I began realising that he was onto something; recently I have to admit that he might prove me wrong and after being an eyewitness to the rise in quality with every vintage of his Spätburgunder I believe that we have a fun and interesting time ahead of us when Klaus-Peter will obnoxiously keep annoying us by opening his Red Rieslings blind side by side with great Grand Crus from Burgundy. Rest assured I will not be betting any significant fortunes on who's who at these tastings...
Vintage 2013
Some more discussions with Klaus-Peter while I'm at it. Regarding the vintage, I've heard some comments here on this forum that it was a "bad" vintage, with lots of rain and ultra-high acidity. He stresses that those comments are taaken completely out of context and are usually put forward by people who like toi generalise and who haven't actually tasted the wines in question. What the 2013 vintage is foremost to me, is probably the viticulture year that has produced the highest variation between the regions as long as I can remember. You have producers like Willi Schaefer who noted that their harvest was even smaller than in 2010 and since that vintage must probably be the smallest they can remember we're talkong potentielly the lowest harvest in the estate's history. If you read my previous posts you might also note Hanno Zillken's account on the devastating harvest with yields down to 50%, if not more... And look at the Nahe – where Tim Fröhlich reports a perfect harvest with maybe 5% down from a normal year while Dönnhoff reports reductions of about 40%. And look at the rain fall statistics, with the Mosel region receiving more than 400 mm of rain the crucial months of ripening while Rheinehessen received somen 200 mm, which is quite a normal year for them. Tim Fröhlich usually tries to harvest a week after the first frost and Klaus-Peter told me a similar story – when the very cool temperatures from mid-October to beginning November set in, only the grapes from the top wineries were still hanging then – and not even all of them. Of what I've heard, the Pfalz picked much earlier – many of the GGs were picked between 5 and 12th of October. Some parts of Pfalz were hit by strong rains and had to more or less a harvest in haste and panic. At Bürklin Wolf all thte best vineyards had to be picked within 3 or 4 days. So some considerable variation throughout the German wine landscape and that is the my main observation when travelling from estate to estate – how different the various regions fared.
Back to Klaus-Peter again:
"In the easy vintages you can buy everywhere – but the easy vintages often tend to be boring on a high level"
. He stresses that sure enough, no one will complain if you have a picture perfect growing season but the difference, according to Klaus-Peter, is that in those vintages you can indeed buy everything blind because most wines will be quite good, or very good, but at the higher – or no – at the
highest
level, the vines need to struggle to achieve those extra 5% that make them produce not just super delicious but truly extraordinary wines. As
Hans-Günther Schwartz
of Müller Catoir always said:
"The vintages with a mix of sun, rain, higher and lower temperatures are perfect for Riesling because Riesling does not need (as for example Cabernet or Merlot does) the warm summer and the dry October. Riesling needs the mixture of ALL. We try to wait for the first frost to pick and the flavours then start to explode."
Thus the pinnacle of the vintage concentrates the grapes at the top estates who dare to take a gamle. In my opinion, 2013 is not the vintage to discover newcomers or to be surprised by quality of a winery that you did not know till now; those successes will be rare. But for the top estates who had luck with the weather in combination with the the risk they ran by having the grapes hanging longer on their vines – some of the most thrilling wines of the last decade are in their cellars for those who dared.... Klaus-Peter told me there is a German saying applicable to the 2013 vintage:
"Trennt sich die Spreu vom Weizen."
That means it's a clear-cut division between those who did well and risked a lot – and those who just want to be good winemakers but saved the harvest early to secure it economically. What was important in 2013, low yields so that the high sugar free extract balance the good acidity very well. I think this will show very clearly when the 2013s are evaluetad by the experts. Those that did cut yields to a necessary minimum will have something special in their cellars; those that didn't, will have average wines. In Nahe and Rheinhessen there will be some icewine; for example, Helmut Dönnhoff harvested very early in November already, Klaus-Peter Keller, as noted above, was able to make BA and TBA from Abtserde, Hubacker, Morstein and Pettenthal. As a vintage character, if you love cooler vintages (like Klaus-Peter does – we have some arguments there, I must confess), like 2002, 2008, 2010, and 2012 – I believe you will like 2013 a lot, at least from Keller. It's full of very soil-driven minerals, a vintage with a lot of precise finesse and elegance. For some of the producers, 2013 might even turn out to be a better vintage (but for Mosel and Pfalz, 2012 was definitively the better overall vintage). As Klaus-Peter noted:
"2013 was perfect for this category in Nierstein, in my opinion – thus in Nierstein I made much more off dry and sweet wine than ever before."
The 2012 vintage is a bit rounder and softer; 2013 is more racy and precise with a very, very well-balanced acidity at the top estates and bit more racy and sometimes slightly green when we switch to Mosel, Saar and Ruwer – but many past vintages show that those years can often develop very well. So to summarise, I would say that 2013 is not only a winemaker's vintage - they also had to risk a lot, because water from rain does potentially not only destroy a vintage, it can also add characteristics as well, some of which you would never get in a picture perfect vintage. Cool nights and moderate warm days may add complexity to the must and a little rain pour every now and then during the harvest season may even facilitate a vine's mineral uptake and add to the complexity of the grape must – and looking at Klaus-Peter Keller's shining eyes, he seem to love the vintage. Some have reported that the vintage is about "acid, acid, acid" but that's NOT the sign of the vintage – it's the well-balanced balanced acidity coupled with very high extract that is the signature offered by this unusual vintage. The key was obviously to take it on the chin an accept a very small yield and allow the grapes the chance of late ripening at cool temperatures with enough water in the soil (and this is the variation, because depending on the wine region you had everything from enough to too much rain) –
THAT'S
the 2013 vintage.
Nierstein vs Westhofen and Flörsheim-Dalsheim
I also had time to exchange som thoughts on the new parcels in Nierstein and compare them to the original vineyards in Westhofen and Flörsheim-Dalsheim. In Nierstein Keller worsk with lower canopy (only around 5 to 6 leaves per bunch of grapes), and in Hügelland with more leaves as it's cooler and more open to wind. Now with more carbon dioxide in the atmosphere and more sunshine hours, the Nierstein vineyards faces the risk to not have not enough water (so by lower canopy, you also save water). Of course, there is no one single method of how to work the vineyards in Nierstein, as the growing season will be different from year to year ist to different but in general Nierstein is warmer and has less water; in former times often an advantage – today it can easily turn into a disadvantage. You simply have to develop a feeling for your vineyards.
"I think the secret is we try to feel like our vineyards feel. Nierstein is warmer, very steep (up to 80%) and not not a white or yellow rock but red stone that saves the temperature and retain the warmth during night. You have to think of water (you have less on steep soils), you have to think about the height of the canopy (low canopy will save water), and you have to think about the relation of leaves to grape bunches – what is the perfect ratio for a steep, warm site when I want to produce an elegant, precise, soil-driven, lowalcoholic wine? There are always a lot of things to think of and every year is different with some new revelations."
Compare this to the vineyards in Westhofen, with its pure limestone rock, where Abtserde is Klaus-Peter's prima ballerina – which sounds nice but it also comes with all problems a prima ballerina with an attitude can cause! It's stonly like Le Clos (Klaus-Peter mentions that many Americans were saying they think they have a Raveanau Le Clos in their glass when they drink the Abtserde Riesling GG, as it reminded them so strongly of a top-class Chablis), with the highest active chalk content of all Keller's vineyards. That translates into a real danger of chlorosis, which means he must be very careful with how to work the soil. Often there is a problem with the supply of iron during flowering, which means the development of very small berries, low yields, and faster ripening. And this is the mind-set of Klaus-Peter, all these little details depending on which parcel and its corresponding micro-climate and soil profile. As he mentioned:
"Such ideas we have for every vineyard, so we really try to find their true souls and therefore we treat every single parcel in a special way – and that's the secret to our wines! I have a vision of how a wine from a particular soil could taste and I try to bring this vision in the glass. And that means...a lot of extra hours in the vineyards."
Winemaking philosophy at Weingut Keller
Of course, it's impossible to end this Keller Report without discussing some of the philosophy that serves as the backbone of how Klaus-Peter approaches his craft as a winemaker. I general, there has been a shift since 2006, when he and his wife Julia took over the management of the estate, with them both focusing on more filigree and finesse at lower alcohol levels, to really bring out the terroir of each individual site. And above all, doing this within the limits of a family business. I have decided ONE thing – if be it the last thing I do while still alive. One day I will take Klaus-Peter on a road trip to California and make sure he meets another fellow winemaker, one that I know Klaus-Peter admires,
Manfred Krankl
of Sine Qua Non, who in a recent interview stated the exact same words I know that Klaus-Peter abides to – as KP told me:
"Manfred wants to be the winemaker. So do I."
"We're small enough now where I can make the art and the wine,"
Krankl says.
"If someone asks who's the winemaker, I can confidently say it's me. I could keep on growing, but my life would change completely. I would become another sales guy doing dog-and-pony shows. I don't want to do that. It's a wonderful thing to preserve. How much do I need to live a happy life and to thrive? What do you have to give up to get to that point? Unfortunately, I think a lot of people get sidetracked by the rat race."
[/b]
Those could as well be the words by Klaus-Peter because when he talks about his life as a winemaker he says:
"What we
(by "we", he means his wife and his family)
want in life is being close to our vineyards, eat from our garden, have the eggs from our chicken and the good ham and sausages from our own pigs. As an American sommelier from 11 Madison Park told me last week: Julia and Klaus-Peter, your wines are really magnificent – but I could die for your home-made liver sausage". That's life, my friend! And to share."

I can only concur and confirm to people that haven't met the family that this is the very essence from which the Kellers derive. The happiest face on both Julia and Klaus-Peter can be seen when they have the possibility to share. I see no fortunes in their home. Sure enough, the have a gigantic television screen but given the humongous amount of time spent by Felix playing all those computer soccer games and Klaus-Peter's immense immense passion for soccer, it's a small investmnent that has paid off multiple times. Otherwise there's no Porche in the courtyard, no Rolex watches, no amassment of luxury goods at all. In fact, what the Keller seem to enjoy the most, except for sharing the litte wealth they have aquired, it's eating and drinking well. If you wish to impress them, don't dazzle them with luxury but serve them the best fish or seafood you could muster and you will be greeted by big smiles.
The reason for this success, apart from the extraordinary vineyards they have collected? I actually know why Keller is so successful. Hard, damn work... It sounds so simple. Don't ALL winemakers work hard? Think about it...how many of the front figures from various estates really DO the work in the vineyards themselves? Take a guess. To quote Klaus-Peter again:
"Here at Weingut Kller the winemaker is the vineyard manager as well. When we have apprentices from California they often tell us: you do work that at Napa only the Mexicans are doing! And then I answer: Then we are all Mexicans here! It's important to be close to the vineyards – otherwise we would not do it".
And in those very words, those few syllables, I think we have reached the core why this estates shines so brightly in the German wine heaven – and why I have urged you not trying to make an appointment but instead knock on their door at 3 am to be sure to cathc the winemaker in bed – otherwise it will be too late. This really IS a family that live for their wines, living close to their vineyards and doing the hard work themselves. Like Klaus-Peter said:
"Perhaps we are also in some ways the last unicorns – many winemakers look at us really strange when they see Julia and me standing in the vineyards. They say: no one will taste it! And I tell you: perhaps they do not taste it and perhaps 95% of the customers will not taste it – but WE will taste it and perhaps the last remaining 5% that are sensitive enough to taste the differences – and that makes it worth it."
So in other words, it's not easy to get an appointment with the winemaker because he's in his vineyards most of the time. And he has a wife, Julia, who is as passionate as himself. And speaking of Julia, I asked Klaus-Peter if he has any famous last words:
"I think the support from my wife is very important. Without her – no Weingut Keller."
And I think that says it all. Because here I have been talking about Klaus-Peter this, Klaus-Peter that but in reality, Julia is very much part of the Keller team, both at the office, in the vineyards during the growing season, again at harvest time (as I can attest through my experience in the Abtserde!) and in the cellar, tasting together with her husband. And she does a killer
osso-buco
. I feel privileged to call them my friends.
We are approaching the conclusin of this extensive report on my impressions from Weingut Keller. Time to share something I saw on some internet page recently:
A true wine geek goes through the following spiritual stages:
Stage 1 "Genesis"
– Have an epiphany wine that makes you want to get more serious about wine
Stage 2 "Confusion"
– Realize that there are so many bewildering choices that its difficult to decide what to buy
Stage 3 "Discipleship"
– Start following the ratings of a respected wine critic as a guide to what to buy
Stage 4 "Cognitive Dissonance"
– Do your best to tell yourself that you are actually enjoying all the highly rated wines you are drinking
Stage 5 "Awakening"
– Realize that taste in wine is subjective and you need to determine for yourself what you like
Stage 6 "Rage"
– What the f*ck am I going to do with all this wine I bought that i don't actually like?
Stage 7 "Dinner Parties"
– Unload the wine on friends at non-wine-geek dinner parties. They will likely be impressed as the wines are highly rated.
Stage 8 "The Quest"
– Taste, taste and taste some more to see what regions, producers and vintages you like
Stage 9 "Enlightenment"
– OMFG! Burgundy!
Stage 10 "Dark Night of the Soul"
– OMFG! These things are expensive!
Stage 11 "Inner Peace"
– German Riesling! And cheap too!
Now,
THERE'S
some food for thought... :-)
Time to wrap it up, isn't it? You might think that it's all
hunky dory
between me and Klaus-Peter Keller. Nothing could be further from the truth. We still have the unresolved issue of the Scheurebe. My message to him is:
keep out!
I'm gonna shut him out of the Scheu parcel in Morstein as the grapes approach its initial maturity and manage the harvest for him – at Kabinett level. With me in charge, we'll have none of this dry Scheu nonsense. He has two choices. Either he complies or...I will
punish
him by adding
this
reminder THIS to every tasting note I will ever share on the internet
in the future!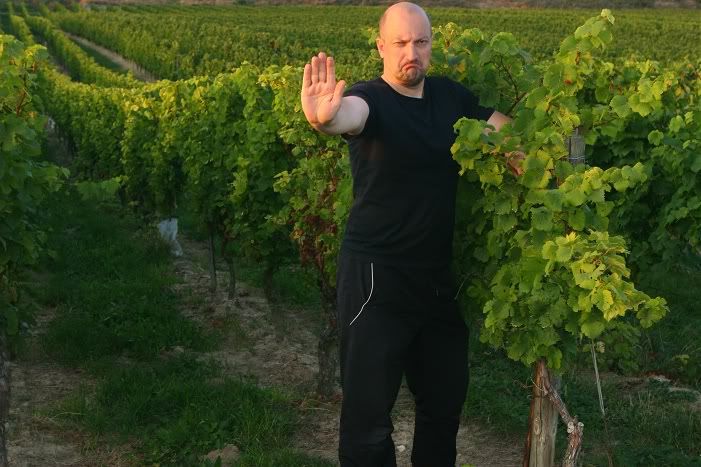 KEEP

OUT

OF THE SCHEUREBE PARCEL IN MORSTEIN!
Here endeth my Keller Report for this year. Already looking forward to taste the next vintage.
Thanks for listening.
Miran