INTERMEZZO II
There will be another intermission as I'm not nearly close to finish the tasting notes from the next estate so I thought I'd share some impressions of two wines that evokes a...
sexual
feeling. Or was it a healing? Let's all together get into the right groove before I start.
Here
. Yes, you heard me right. And I apologise beforehand because there is really
no
need to include sexual inuendos to make God-fearing servants of the British Queen feeling all un-zipped (those are usually the only ones who are not "keen on" such exxplicit comparisons, while Americans seem to be more relaxed). The first wine was ordered more than a year ago at a restaurant in New York and shared with my then girlfriend (today my wife, as strange as it may sound) and consumed with a wonderful dinner; the second wine was just opened to support the energy level while continuing this quest to transfer some tasting notes into digital form and share them with fellow wine aficionados in general and Riesling dito in particular).
First wine. A beautiful evening in my favourite city,
New York
, with my favourite girl. We reserved a table at the Jean George Nougatine at the corner of Central Park. Delicious food through all courses and what could be better to accompany the great dishes with equally great wine? So I asked for the wine list and surprisingly I wasn't that thrilled. Apparently the look of my eyes were revealing so the waitor asked me if I would like to see the extended wine list.
Is the Pope Catholic?
The answer was quite obvious and as I scanned the pages I noticed several wines from a friend of mine, Klaus-Peter Keller. Hmm, I took a hard look at the prices and they were quite reasonable for being in a such a restaurant but not only that, I noticed that a bottle from one of my absolute favourite vineyards on this planet,
Westhofener Abtserde
(or
Abts E
as written on the bottle for various reasons but I try to convince Klaus-Peter to return to the proper name) was priced below that of Kirchspiel and Hubacker. How could that be? The latter two are also incredible delicious to my palate but nevertheless, the Abstserde is one of the stars in my wine heaven. The vintage listed was the 2010 - super young of course but hey, I've tasted it sevel times before and loved it on each occasion. So I asked the sommelier if the price was correct and indeed it was. Still hesitant, I asked if it was a half-bottle but she insisted it was a regular bottle. Hmm. Okay, so let's give it a try and see if the actual bottle would appear. And it did.
2010 Keller Westhofener Abtserde Riesling Grosses Gewächs
Actually, it's
Westhofener Brunnenhäuschen
, possibly with the extension Absterde but that would make an already long story even longer; instead I'll try to focus on sex. Oh, sorry, what a
give-away
! I mean the wine. T h e w i n e. Let me get this straight - the food was delicious, my girlfriend is awesome but as I started to sip this wine my vision got more and more...blurred. I mean, I saw the food, I
did
talk to my girlfriend but the surroundings seemed more and more out of focus, voices taking the back-bench distantly far as my mind raced and I shouted out to myself, in a loudly-pitched mental voice:
I want to have sex with this winemaker!
It was that good. Don't get me wrong, I'm straight and I love my wife but this...this, ehh, how to explain it? It just makes you want to jump straight out of the restaurant's chair and make love to this winemaker as a friendly and passionate token for the gratitude one feels towards someone who has made this wine possible. I don't know how such a sensory joy is expressed in America but I'm telling you - a wine this good completely overwhelmes me with emotions. It starts with such incredible ENERGY, a true vibrato, oscillating to the point when you wonder if the rest of the patrons at the restaurant notice how the table almost lifts off from the good
vibrations
. You don't even think about fruit flavours, acidity, texture, palate or peripher things like that. It's this...eeeeeenergi from the first sip! Always like a nervous little child hiding beneath the bed need to be convinced and lured to come out to see there are no monsters hiding in the closet. If there ever was a posture child for boyancy, tension and up-lift in a wine, this is it. Zappy, snappy, crystal-clear it jumps at you, grabs you by the head and shakes you madly, no, attacks you like a monkey on acid, until you're forced to acknowledge its presence. Sure, you have the usual grapefruit, tangerine, yada-yada-yada fruit characteristics as always, the piercing yet ripe acidity but honestly you don't care - this is pure limestone minerality and that's what comes to your mind more than enaything else. Absolutely stunning! Utterly exhilarating! And wait a minute, where's that winemaker now again - I want to have sex with him!! Abtserde...this is such a beautiful vineyard and to me, a true German treasure. It's documented as far back as 1280. A drystone wall protect the site from the north and underground springs pprovide it with moisture. No other site in Westhofen has such a high active-lime content - it allows the grapes to remain very small and intensely flavoured. And it really shows when you walk through the vineyard and see these tiny, tiny grapes widely dispersed in small bunches, looking like small champagne bubbles waiting to burst with energy - no wonder then that the yields are so absurdly low. Obsviously I can't take credit for being the only one realising the quality of this German gem; David Schildknecht rated it higher than the G-Max this year and John Gilman seemed to fall in love even harder in his assessment. However, both these gentlemen have to excuse me but this 2010 version is even better than that,
98 points
.
"What are you thinking of, dear?"
I snapped out of my thoughts and smiled back at my girlfriend.
"Nothing, my dear"...
The second wine is consumed as we speak (and maybe that's the reason for some unorthodox tasting notes this evening) to provide energy for further tasting notes transcriptions.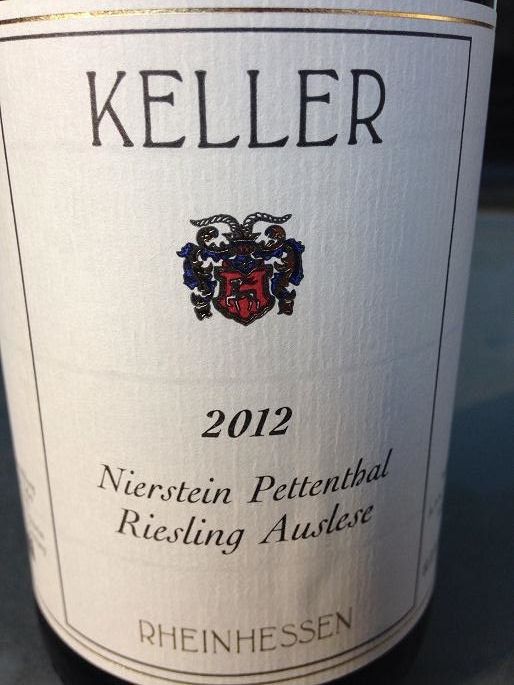 2012 Keller Niersteiner Pettenthal Riesling Auslese
This wine comes from the, oh God only knows...what is it? Zero, point something/nothing hectares of the best tiny, tiny super-parcel originating from the iconic Franz Karl Schmitt holdings in Nierstein's famous red slate soils, "Rotem Hang". I wish I could describe this wine in a more posed and aristocratic way is I'm drooling down my laptop here while sipping on this tremendous jucie. This is...hard to describe. It's...totally irresistable. Where even to begin describing it. Forget the fruit, forget even the acidity and minerality for a moment and just listen to this: tension... This Riesling Auslese jumps at you with such utterly boyancy and tactile tension,
baboom!
It's just the image from a track and field competition and pole vaulting - the athlete comes running with an erect (excuse the pun) pole and then catapulting himself
up, up, up
towards the sky. That's the feeling you get initially. The
Sergej Bubka
of Rieslings. And then the texture... So absolutely delicate, so wonderfully light on its feet - as if barely touching the ground. So damn refreshing, so vidivly light and playful, like dancing down your throat with music in your ears - and this is an Auslese. I think it's important to report on this. For several reasons. That the Nierstein Rotes Hang can produce this marvelous elixir, just as it did a hundred years ago, IF properly cared for. And that a Riesling Auslese doesn't HAVE to be truly sweet, like a dessert wine, or cloggy or clumsy. This one is absolutely the opposite with it's laser-like precison, total clarity, beautiful transparency and only towards the end you start to really think about luscious fruits and seducing flavours once the spellbinding and intense liquid minerality gives way to...oh, what to say? Like a mint-infused melon-pear cornucopia mixed with
these
. The cool, fresh candy from Finland. With zesty acidity and this stunningly pure minerality it's almost impossible to resist another sip. Resistence is indeed
futile
. I feel like just stripping full naked and running all the way down to Germany doing the
helicopter
, with a stop-over in Bremen for a knackwurst snack and continue running down south so you'll hear me already when I pass Alzey, ready to extend a big, warm hug.
97 points.
I don't know if you're reading this, David Schildknecht, but you rated the 2011 vintage of this brilliant wine 98 points and I couldn't agree more that we are talking about a wine at the highest Olympic heights. So I really hope we can have you on German soil soon for you to taste and compare the 2012 and 2013 vintages of this wine. I was so taken by the brilliance of this wine I had to quickly browse through my tasting notes from last year just to see what my impressions were then. Indeed the wine seem to evoke the same feelings back then - I rated it 96-98 points when first tasting this wine from barrel and then ending up at 97 points in June when tasting it from bottle. Young or old, it continues to make my just wanting to strip naked and start running south...
For those taken aback by these filthy impressions I apologise profusely. I AM indeed nothing less, nothing more than
this
.