Always fun to occasionally look back down that windling Memory Lane. Joakim is holding a special celebration with us Barolo Boys of Stockholm today. As a preparation for the dinner and what will no doubt be a bad ass list of wine treasures from Piemonteland, I allowed myself some memories of past experience when he has rang the bell to announce it's time for Barolo Boys to gather.
I'm slowly recovering from last night's get-together at Chez Joakim. He had summoned us for a modest little meeting of our wine club called...
BAROLO BOYS.
Every now and then the four members of Barolo Boys gather here in cold, dark Scandinavia to celebrate the little things in life and meanwhile conduct some serious Quality Control measures of certain bottles from the beautiful green and misty hills of Langa. In fact, once we even tried to invite
Antonio Galloni
for such a dinner while he was staying here in Stockholm but he had to do with the cooking of our celebrated chef Matthias Dahlgren at
Matbaren
instead. I believe he has published an account of that dinner on Hedonist Gazette. (Next time, Antonio!)
Joakim kindly asked us to turn up at his home yesterday evening and immediately greeted us with some seafood mix together with a Champagne looking like a rosé but after tasting it you realised the pink/red colour was an expression of the mature age. I must confess I didn't care much for it as it had an obvious oxidied note throughout the palate. Not oxidised in a faulty way as in a bad gone bad but more from the very mature stage of its development. I had no idea how old it could be but noticed there were still some nice dried fruit in it and others who enjoyed it more than I did liked the creamy texture mixed with the red fruit that seemed surprisingly lively for such an old Champagne. It turned out to be a
1928 Pommery
. I believe I just broke my own record for tasting old Champagne by at least 50 years...
When mixed with some fresh juice form a bottle of a non-vintage Pommery Rosé the blend turned out more complex with more lively fruit yet with that distinguised dry fruit and creaminess in the background. I still preferred the young Champagne on its own as I have a hard time with anything oxidised (I have proclaimed my home to be a certified sherry-free zone) but for those who are not as sensitive would be very surprised as to how fresh the 1928 Pommery tasted.
With this encore Joakim kindly asked us to take a place at the dinner table to sample two white wines while he got busy in the kitchen. Although I enjoyed drinking the two whites present in the glasses I couldn't help wondering what Joakim was up to in the kitchen so I brought my camera for some documentation. He was busy allright. Could it be that we have a Swedish version of Mario Batali in our little
Barolo Boys
wine club? Minus the red hair.
Joakim's first pose in the kitchen looked a little like this:
Ahhh...scallops. Obviously we were up to good start here.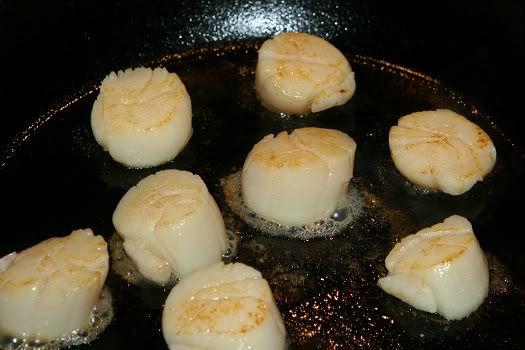 Wonderful...! Then we need a good presentation and Joakim Batali never disappoints. He went on to carefully place the scallops on various beds of tasty yum-yum. Joakim, help me here..what did you use?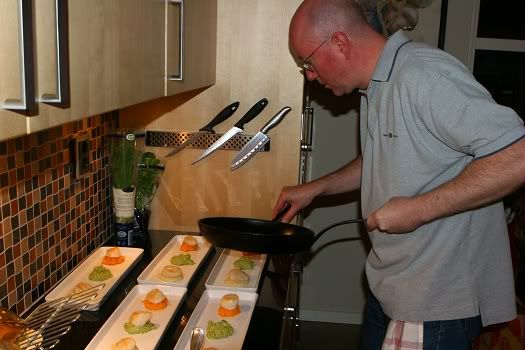 And the final output loooked something like this: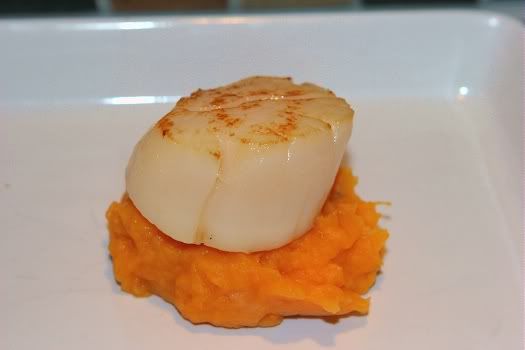 I told you so... How could you possibly go wrong with a
Barolo Boys
meeting at Chez Joakim?
With the scallops beautifully presented on the plate we continued to enjoy the two white wines. The
first wine
leaned toward the same tendency as the Champagne, with a more pronounced maturity but nowhere near the likes of the Pommery. Here you had a nutty feeling with ripe yellow apples mixed with dried fruits and dried...wood. Yes, like cedar. Difficult to explain. The creamy texture together with the hints of dried apricot and peach and some vanilla and almonds created a very pleasant setting together with the food. Yet...this wine too had a hint, and really just a slight hint of oxidation in the background making it - to my palate - a wine I would call good but not great, giving it
88 points
. Those who like the nutty tast and are really into more maturity in wines would probably rate it slightly higher.
The second wine was a completely different creature. Much more vibrant och fresh this was clearly a younger wine. On the nose you had pleasant yellow fruits and immediately on the palate that impression was confirmed with a nice touch of fresh lime peel, a very "yellowly" polished vibrant acidity, yellow, ripe apples, roasted oak and a very nice balance. What impressed the most was the combination of lightness together with the richness of the fruit. I rated it
93-94 points
and had no problems at all flushing down the scallops with these two wines. Guessing Chardonnay on both I was right but I had no clue about vintage or producer.
The wines in question were the (first)
1998 Louis Latour Bâtard-Montrachet
and (second)
1996 Verget Bâtard-Montrachet
.
Then it was time for the reds...
Need to take a moment of contemplation here. The wines were so outrageously delicious. Difficult to describe. Words...are so inadequate sometimes.
Satisfied by our initial smiles, Joakim quickly returned to the kitchen and put some butter in the pan, melted it and added big leaves of sage to accompany the gnocci.
And of course...he felt that we simply couldn't sit there completely dried out at the table so while enjoying his superb cooking during the evening every now and then he pulled some corks and served us an assortment of red wines. All blind, all without having a clue what it could be. Here is my impression of this modest little lineup.
To the gnocci with sage:
1985 Bruno Giacosa Barolo Villero
Ahhh...beautiful, was my first impression. So wonderfully silky and balanced from the first sip. Beautiful darkish red fruit with some Asian spices, mushrooms, wild strawberries and licorice. Sweet, silky tannins adds to a wonderfull overall balance. Just perfect harmony and ripeness. Long finish that just melts away in your mouth. I wish all my wines would taste like this... But then it hit me. Nervously I looked around at my friends around the table. Did they see the same thing as I did? Or was I just
hallucinating
? I turned to Joakim and asked:
"Where's your girlfriend?"
Upstairs, he replied.
Why?
Oh, nothing special I said, and slowly pulled away my hand from where it was and placed them on the table again, hoping that no one had noticed...
95 points
.
1982 Bruno Giacosa Barolo Le Rocche Falletto
Very similar to the Villero but...even more mushrooms on the nose and palate, black truffles and black porcini, deeper red fruit of cherries and wild strawberries, tannins not as silky but with more punch and a little more coarse. Long, persistent finish. With a more rustic feeling but with the rich fruit still retained, this baby needs some more time...
93+ points
.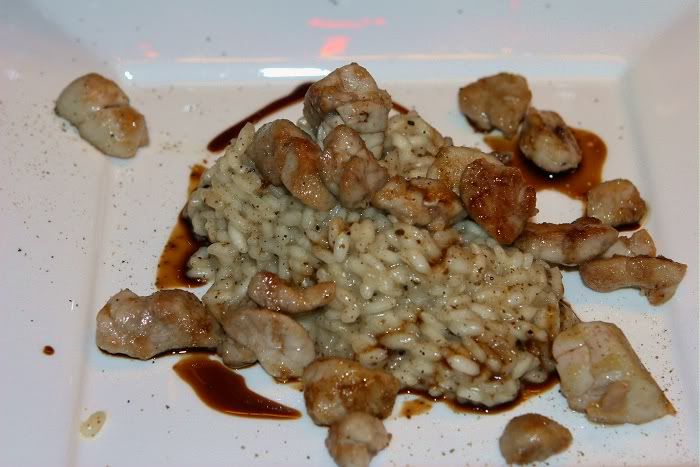 To the risotto with sweetbread and bacon:

1971 Bruno Giacosa Barolo

Collina

Rionda

Ahhhh! Has anyone met Egon Müller from the Saar? This is how this wine tastes. Aristocratic from the first sip. Initially restrained but when you get to know it it opens up and blossoms. This one vibrates, rumbles, like a V8 engine waiting for you to hit the gas pedal. Thick, jammy red fruit of wild strawberries, cherry and raspberries yet so ripe and astonishingly mature and balanced. Wonderful sweet tannins and ahh, the fruit! So deep, so layered and with all those assorted extras...tobacco, some gunpowder, cacao, some milk chocolate. So silky and so elegant. It has this noble expression from a noble winemaker. Serenity. Yet brutal power. Endless finish... Mama, I don't wanna go home!! I couldn't take it anymore so I stared at the others and asked, aren't we among friends? Yes, they said. And aren't we all men? Yes, they said. So what if I...NO!!!, they shouted.

97-98 points

.

1982 Bruno Giacosa Barolo

Collina

Rionda Red Label Riserva

Well, THAT sure was a beginning I thought, pondering on the outrageous start of the evening when I dipped my nose into the next wine. Holy macaroni! Roses... Red roses but not just one beautiful specimen. Thousands of them! Layer upon layer. Run for that sack there in the corner. What is it? Dried porcini? Okay, pour the whole sack into the wine. Wonderful perfume and taste of sweet tobacco, so sweet and silky tannins you feel like crying from pure joy, black mushrooms/truffles, tea leaves, licorice. So delicious, so beautiful, so ethereal, such a mindboggling class of a wine it seems to hover above the glass begging you to take another sip. Words are simply not enough to describe this extraordinary wine...you need to be there and taste it yourself. This is at its peak right now and I only wish more producers out there on this lonely planet could study and learn from this example.

E v e r y t h i n g Burgundy ever wanted to be but....failed.

I just couldn't take it anymore! Full rotor swing, we have a

LIFT-OFF!

It took me endless energy to break out of orbit just to be able to continue the wonderful tasting. A celebration of life and a tribute to the great Bruno Giacosa!

98-99 points

.

It's funny. Scoring is such a crude instrument. When looking at the nose I and the given score I notice I obviosly rated the younger wine higher but to be honest, that's just a snapshot from a series of impressions. During the evening I was at times leaning more towards the 1971 and then back again, so please regard my final scores as a mere indication of the level of quality and the utter joy & happiness these wines offered during this magical evening.

1990 Bruno Giacosa Barolo

Collina

Rionda Red Label Riserva

This one very much mimiced the 1982 vintage but with some differences. Equally enjoyable this had a higher "pitch" in its acidity, making it seemingly fresher but also combined with tannins that fel a little more pronounced (yet utterly silky nevertheless). It's absurd saying that about an almost 20-year-old wine but it needs some more time before it will reach its peak and full maturity. Deep-deep layered with lots of delicious licorice and coffee together with brute force and richness in an endless finish.

96+ points

.

Intermission, just for the fun of it...

1985 Bruno Giacosa Barbaresco Santo Stefano Red Label Riserva

Knowing us to be like sponges, Joakim felt that he didn't want to risk us becoming completely dried-out while he was laying the finish on the food so he served us a little intermission. Damn this is good! Decadent. Concentrated. Masses of rich compote of wild strawberries and then your usual suspects kicks in as second gear. Licorice, lots of it, succulent, delicious red roses, silky, sweet tannins perfectly integrated with the fruit, wonderful dried porcini and so smooth, so delicious, so embarrasingly yummy.

96-97+ points

. This must be difficult for our host. Here we are sitting in our Barolo Boys t-shirts very well aware of our host's affininty to Barolo and yet this Barbaresco is as ethereal and breathtaking as

Liv Tyler

in Lord of the Rings.

1982 Bruno Giacosa Barbaresco Santo Stefano Red Label Riserva

And just when you thought you've heard it all...knock-knock on the door and here enters the 1982 version of the same wine. My God!! So captivating from the very first sip! Deeper layered, deeper red fruit, even MORE integrated with all components in utter harmony, rumbling and kind of whispering it has even more to give deep down there at the core but it's just teasing you with the more shallow layers at this moment in time. Asolutely sensational. And there's more. Chocolate, licorice, did I say rumbling fruit beneath that layer upon layer of deep, red fruit? Superb length and absolutely dead-gorgeous. It has such a profound personality; you could literaaly hear Bruno Giacosa whispering through the silky curtains. It's difficult not to get emotional by such a great wine. And even difficult to drink it as it changes, evolves and shows you different layers each time you come back with your big nose above the glass. So noble, so Giacosa, so delicate and elegant yet so powerful.

Houston, we have a lift-off! 98-99 points

. Or what the heck, even

100 points

at times

.

It's not a matter of the wine anymore. It's more about who sitting in your lap and although Joakim is a fine specimen of a human being but I'd prefer

this

on my lap to give the wine a perfect three digit score.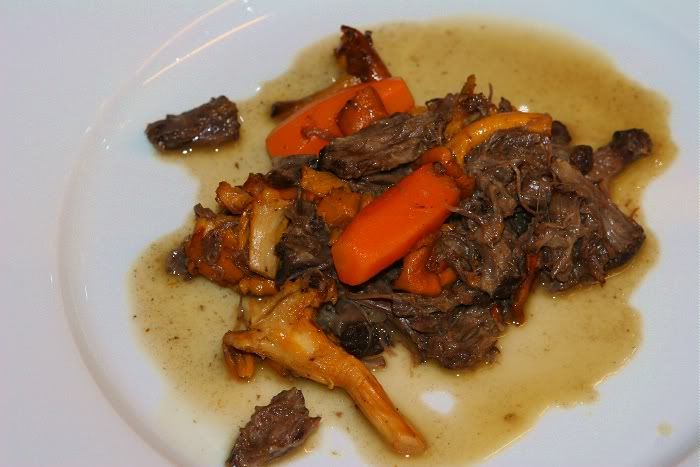 To the the oxtail with macaroni and cheese:
1985 Bruno Giacosa Barolo Falletto Red Label Riserva
First impression...you actually need to chew this wine. Succulent, red candy and licorice. Damn it's decadent! This is a wine that should be R-rated and forbidden to ever pass under the nose of children. So sexy, so
flirty
and so astoningshly rich in it's yet so silky texture. Pieces of red roses and actually real chunks of red candy. Mutidimensional and outrageosuly hedonistic. I never thought that silky, gracefull Giacosa could have this power and grip.
96 points
.
1990 Bruno Giacosa Barolo Falletto Red Label Riserva
Ahhhhhh! Where's my zipper! It needs to go...
DOWNTOWN
!! At this point I wasn't even looking at the other, wasn't going to ask, didn't want to hear their feedback, their concern or their worries. This is a down-with-the-zipper-and-out-comes-the-full-rotor-swing-of-a-wine.
Helicopter
is moving and Houston, guess what... We have a
LIFT-OFF!
The complexity in this wine...the violet pastille, you know that candy you had as a child, like a flying saucer with theat violet powder within it, the way it melted in your mouth, ahhh. Juicy, succulent compote of...well, believe it or not, the fruit is so rich we might even have left the jammy wild strawberries and entered into the blueberry spectrum here. Of course, I'm not talking about a rich, black Rhone Syrah-kind of blueberry here but at least you get my point that it's a beautiful expression of the warmer, richer and denser fruit of the more oppulent 1990 vintage. Yet...it feels so damn...YOUNG! Total purity, delicate & powerful at the same time and absolutely stunning. And with those spices added, the minerals and alltogether wrapped together in this elegant package. Because, despite all the power it's such a feeling of balanced elegance. How could that be? So delicious it's almost hypnotising...
98? 99? 100 points?
Choose whatever, this is a brilliant wine!
1996 Bruno Giacosa Barolo Falletto Red Label Riserva
What a surprise...I had this just a few weeks ago at my birthday party and I rated it the same as above. It was pitch black, oozing with dark, alsmos black fruit and black truffles and seemed very jammy, silky with deep dark-red fruit and yet so utterly cool fruit and so mindboggling balanced you just wanted to kiss your neighbour. However...this one was a completely different creature. It had an intriguing nose of almost Sauvignon blanc initially and the freshness of the wine was further accentuated by the deep, deep, almost dark nose of concentrated red fruit. This one felt much younger than at my place and had a more meaty character with far more pronounced tannins with the fruit rumbling like that recognizable
V8-engine
deep down below. Pardon? What's THAT? That's my hand on the zipper, my friend... This is a puppy and needs more time yet it hints on what's to come further down the road.
97+ points
.
Looking back at this Barolo Boys meeting I feel speechless. To me, it was the
Mother of All Wine Tastings
I have ever attended. Sure, I've had other tastings with equally good wines but this...the atmosphere, the good food, the good laughs and the wonderful spread of so many different wines from one single producer, it was so... Well, I think
Bruno Giacosa
would be proud. And happy about how the wines were enjoyed. In the company of good friends, food and lots of laughter. Just as Bruno intended. And you know what, Bruno. Through your wines you are...
this
. And this is how you will stay.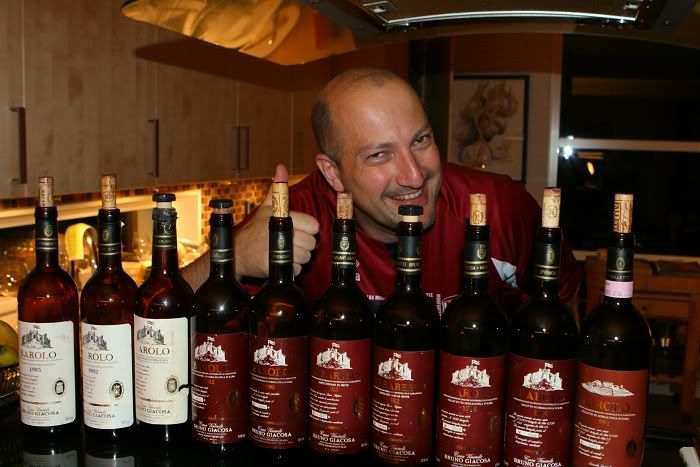 Yours truly together with some amazing wines...
So all in all, the evening was truly a
tribute to Bruno Giacosa but also a tribute to Joakim's generosity... Thanks. To both of you.
Skål!