...down my throat. To offer, in the name of science, some data points on their current developmental stage. Good for them. But before the Jury results from my sensory receptors, some Swedish
music
.
Having said that, here are the results from the Swedish Jury.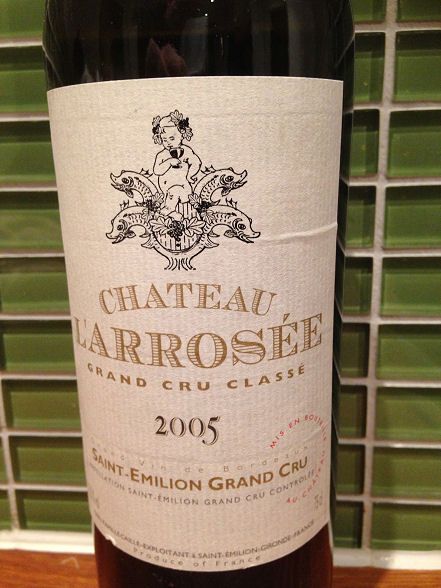 2005 Chateau L'Arrosée
The first thing that comes to my mind is...lightness. And a distinct purity. This is a very elegant, soft-spoken red that doesn't shout out its inner qualities but merely whispers them to its audience. I would have thought it would provide more punch but it's almost a Burgundian style of Bordeaux. The sentiment probably comes from the delicate balance in the wine because behind that seductive, polished appearance you notice layers of sweet fruit of both black and red berries that coats your palate and makes you go back for more. Lovely texture. The tannins provide enough structure but more than that, this wine bids you farewell with a round, soothing feeling of...balance. Very drinkable now. Very enjoyable.
92 points
.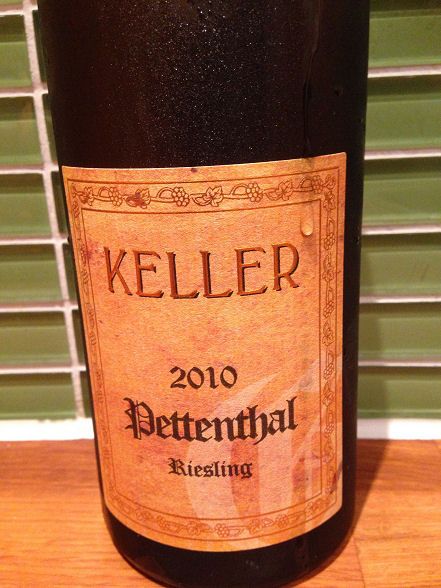 2010 Keller Pettenthal Riesling Grosses Gewächs
I hesitated opening this wine. For two reasons. First, my experience with the dry wines from
Pettenthal
by Weingut Keller is that they have always felt quite closed from the beginning. The
Hipping Riesling GG
is usually open for business from day one, even sometimes jumping out of the bottle grabbing you by the...well, you probably get the picture. But Pettenthal, oh no, it's more the kind of the shy, modest sibling that might have even greater potential in the long run but seldom flashes with the crown jewels from the very start. I have the same experience from the sweeter Rieslings from these adjacent Nierstein vineyards. While the Hipping Kabinett or Spätlese jump out of the glass straight into your arms, dressed to tease and charm your pants off and having every one at the table exclaiming that
this
is the wine of the evening, corresponding wines from Pettenthal seldom make a big fuss initially but as the night progresses so does their development in the glass and when it's time to wrap up the dinner, the guests usually point to that bottle of Pettental and crown it King. However, in my opinion, the slow start is even more pronounced in the dry Riesling GG from Pettenthal. In a hurried tasting where you would taste the wines quickly and only allocate a short time of attention to each wines, this would even risk disappearing when compared to wines delivering more instant gratification from the very first sip. Threfore, to me, this has always been the wine not to gulp down with food but rather just open by itself and drink it as is, to allow myself being immersed by its beautiful purity. Second, in my opinion, 2010 is a brilliant vintage for many German Rieslings and I believe they will age particularly well so I had my doubts opening a bottle possibly "too soon". There was only one way to find out, so I asked the person who has the strongest connection to this particular wine, and who would thus be in the best position to offer good advice, the winemaker himself.
"KILL IT!!"
, was his laconic answer. So what to do? There wasn't much to discuss.
And...the wine surprised me. Already on the nose you can feel the aromas slowly evaporating from the glass to hit your sensory glands with a splash. First of all, smoke. That flinty version when you smash pieces of slate until they crush and form that delicate smoky powder as a by-product. And then a lovely bouquet of spring flowers, a complete array of citrus fruits and a intriguing spicy aroma that I find difficult to describe. Peeled nutmeg? Mind you, not the one bought at the supermarket but picked up freshly straight from the rainforest floor. Or might this be a fancier expression of simply "Asian spices"? While impressive on the nose, it's the palate that really offers the true fireworks. First this sensation of tangeringe. Yes, really tangerine. And filtered red peach so as to extract the sensation of red colour together with some of the flavors without influencing the flavour profile too much. Oh, and in addition, those sensational flavours mixed with that delicate nutmeg spice, which combined creates an almost hypnotic tunnel vision as you stare bewildered at your glass, craving for a second sip before even bothering analysing the first one. And then the texture. Absolutely transparant purity. It's so delicate and feather-like weightless, despite its sheer power of vibrant flavours, that I found myself shaking my head in disbelief while staring at the glass. How can such graceful lightness possess so much power? Impressive fireworks here, in particular with that continuous sense of a moist, ultra-thin coating of white peach wrapping the laser-cut core of crushed stones. Truly impressive, especially the combination of deep, complex layers in the texture that seem to stir the wine to alternate its exposure of delicate fruit, spice and mineralic energy every time you sink your teeth into this beauty. Simply stunning.
96+ points
.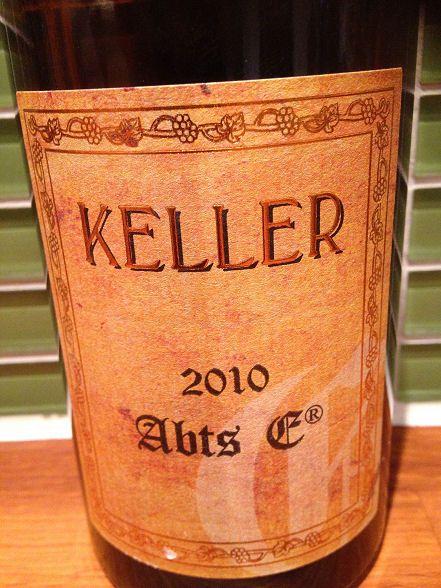 2010 Keller Abtserde Riesling Grosses Gewächs
I teach mathematics, physics, chemistry and biology at my school and one thing I constantly tell my students is the importance of comparative empiric experiments. It seems rather pointless to urge others to compare if you don't act yourself as a good example to follow. And on that note, I grabbed a bottle of the Abtserde GG to compare two wines from the same grape, vintage and producer. I was very eager, above all, to see if really could be that the signature characteristic of Abtserde would show yet again. That sense of vibrating nervous oscillation that seems to be encoded in this vineyard like a stamped-in signature, making it - often - the most easy to identify in a Keller tasting. And sure enough, it really, truly
IS
the first thing you notice with this wine. Don't take my word for it - try it out yourself and report back to this forum. It literally vibrates of high-pitched, nervous energy as it hits the receptors on your tongue with a ticklish sensation. Like a newly opened champagne where the fresh bubbles cleanse your palate with a splashing wave of sparkling freshness. Really dancing like a ballerina along the journey down your throat. More than anything, in fact even more than the impressions of aromas or flavours, it's this electric tension of oscillating energy that always comes out as the most impressive character from Abtserde. To say it's one of my favourite vineyards in the world would be a gross understatement... But, I must say, on the opening it acted more what I expected from the Pettenthal GG above, more shy and restrained in its aromatic profile straight from the glass while retaining it's pronounced sappy vibrancy. Delicate lime flavours are mixed with more mouthwatering nectarine notes together with dusty sprinkles of limestone chalk. Extremely light and delicate, almost to the brink of pure weightlessness. It's as if the wine is not really there, yet it is, or more like you feel the energy from it without pinpointing its location. If I would ever offer a wine to
Edward Witten
, it would be this one and I'm sure it would lead to some new Eureka moments to the theory of supersymmetry and vibrating strings. How to rate a wine with this brilliant grip and energy? I had it in the mid-nineties and it would stay there had I not saved half the content in the bottle in the fridge, only to have another go at it the next evening. My immediate thought on the first sip was to look down into the glass, then head for the fridge to look what I had been pouring. Was it the Absterde or did I mistakenly simply grab another bottle? Nope, it's the very same bottle but something had clearly happened to this wine overnight. The oscillating, nervous vibrancy was there just as last night but now with an even increased amount of energy and movement. Not much unlike a vibrating string proposed in the
M Theory
. Then, the really new costume, what was prior a rather shy, delicate cornucopia of aromas and flavours, has now turned into an utterly refined and smooth coating of blood orange peel sprayed with even more spices and above all mineral dust to create a golden feeling of silky smudge of almost tropical flavours throughout the palate. It's as if the wine turned full-bodied with high extract while retaining a featherlike weighlessness. Or if you will, as if gravity has no pull on the wine since there's no mass, just a beam of laserlike photons on the finish. This creates an elastic tension to the wine's texture that's simply mindboggling. And before you know it, the bottle is finished. Like the Cookie Monster you find yourself looking around for more. What an utterly stunning wine.
98 points
. While I would like to taste all those super expensive white wine icons out there, like Montrachet, I can't but help thinking I'm drinking some of the best white wine on earth for the price of admission that must be only a fraction compared to other superstars of this stratospheric level of quality.
And finally...just the conclude the same way I started this post, some absolutely stunning Swedish music
(1)
. And yes, a chair, a stage, no studio or electronics. Just as pure as Keller's wines. And just as a bonus, another even more scaled-down, version
(2)
and a finally, another melody, just to wrap it all up
(3)
. I wish I would have a fraction of that talent...
Thanks for listening.
PS. By the way, on the label you won't see
Abtserde
but
Abts E
. Because the name Abtserde is not allowed. The first action point to repeal as soon as I become world president. Should you happen to be interested in the history of the wine's name and origin, you can find it
here
.